Boundary Layer Heat Transfer
PhD Student: Andrew Voegele
Advisor: 
Marshall, Andre
Trouvé, Arnaud
Sponsor: 
NASA (Constellation University Institutes Project)
Additional Advisor: Chris Cadou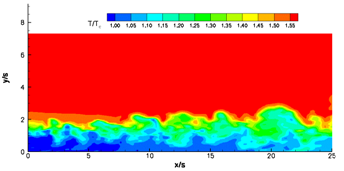 The general objective of this project is to provide a fundamental understanding of the efficiency of film cooling used for thermal protection of the components and surfaces in aircraft engine combustion chambers. With approximately one-third of the total airflow being used to cool the combustor liner and turbine blades, the effective use of this coolant air is of critical importance in efficient engine design. Film cooling involves the injection of a thin fluid film that buffers critical surfaces from the hot by-products of combustion. Film cooling involves the interaction of two highly turbulent, shearing, boundary layer flows in the vicinity of strong pressure gradients and heat transfer, making their measurement and prediction extremely challenging. However the accurate measurement and simulation of this flow is what generates detailed understanding and allows for effective flow design.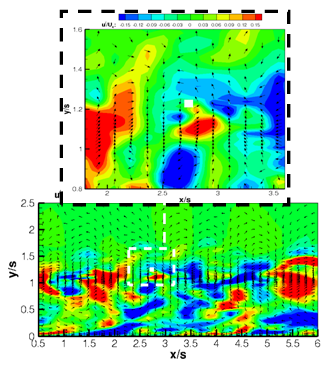 The specific objective of this work is to use detailed flow velocity and thermal information from representative film cooling configurations to evaluate the ability of CFD (Computational Fluid Dynamics), in both LES (large eddy simulation) and RANS (Reynolds-averaged Navier-Stokes) frameworks, to capture turbulent mixing and heat transfer dynamics.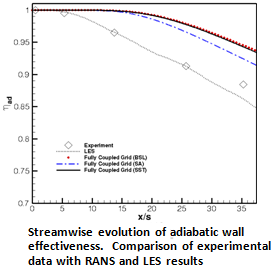 LES-based contours of streamwise velocity fluctuation;

the top insert highlights a particular turbulent structure.
Loci-CHEM, a NASA-based, compressible flow, RANS CFD solver, and les3d-mp, an in-house, incompressible flow (low Mach number), LES/RANS CFD solver, are used to simulate tangentially-injected, slot film cooling experiments (performed at UMD). The joint experimental/computational study includes different cases ranging from subsonic to supersonic flow conditions, and featuring both adiabatic and non-adiabatic walls. The numerical study considers both fine-grained (wall-resolved) simulations and coarse-grained (wall-modeled) simulations.

Andrew Voegele is a Doctorate Student in the Department of Aerospace Engineering. For further information about his research, he can be contacted at: