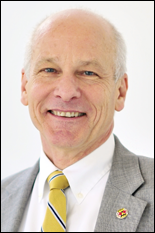 We are proud of our on-campus and distance education programs leading to degrees in fire protection engineering. A list of the degree programs and mode of delivery is noted below:
It is my pleasure to serve as Chair of the Department of Fire Protection Engineering (FPE). The department has a long tradition of providing high-quality education programs in the field, conducting a broad range of research and serving the community and profession. The department is one of eight academic departments in the A. James Clark School of Engineering and is known for maintaining a close-knit community atmosphere with collaborative relationships between students, faculty and staff.
The department has agreements with the other engineering departments in the Clark School to permit students to pursue a Ph.D., taking fire protection engineering graduate courses and conducting their dissertation research in the fire protection field under the guidance of an FPE faculty advisor.
More information is available as linked above for the various degree options. We hope that you'll consider applying to one of the programs and joining us. Should you need additional information on any of the degree programs, please contact the point of contact for the respective programs.
The faculty in the department conducts a wide variety of research in the field. Recent projects include experimental and computational efforts to explore fire behavior, material ignition and burning characteristics, spontaneous ignition, small-scale experimental methods, fire detector response, sprays from sprinklers and nozzles, evacuation, and smoke control. The research contributes to the fire protection engineering field by improving the understanding of fire behavior, developing design aids, and making advances in fire investigations. See the Research page for more information.
The extraordinary support of our alumni is highly appreciated. They remain connected to and supportive of the department in countless ways, including participation as members of our Curriculum Advisory Committee, contributing their professional expertise to classes as adjunct faculty and mentoring our students in class projects and internships. 
The Fire Research and Education (FIRE) Center was established in 2003 as a membership organization. Members support our most talented undergraduates with scholarships and provide financial support to our best graduate students as they progress to advanced degrees.
An exciting new venture for the department is the Fire Testing and Evaluation Center (FireTEC) initiative. FireTEC provides an opportunity for companies to take advantage of the department's laboratory facilities and expertise to conduct experimental studies to explore the fire performance of materials, products and systems.
Please contact us if you have questions about our degree programs, research and testing, or other ways to connect with Fire Protection Engineering.
James Milke, Ph.D., P.E., FSFPE
B.S. FPE '76
Top