Jim Milke Receives NFPA 2023 Distinguished Service Award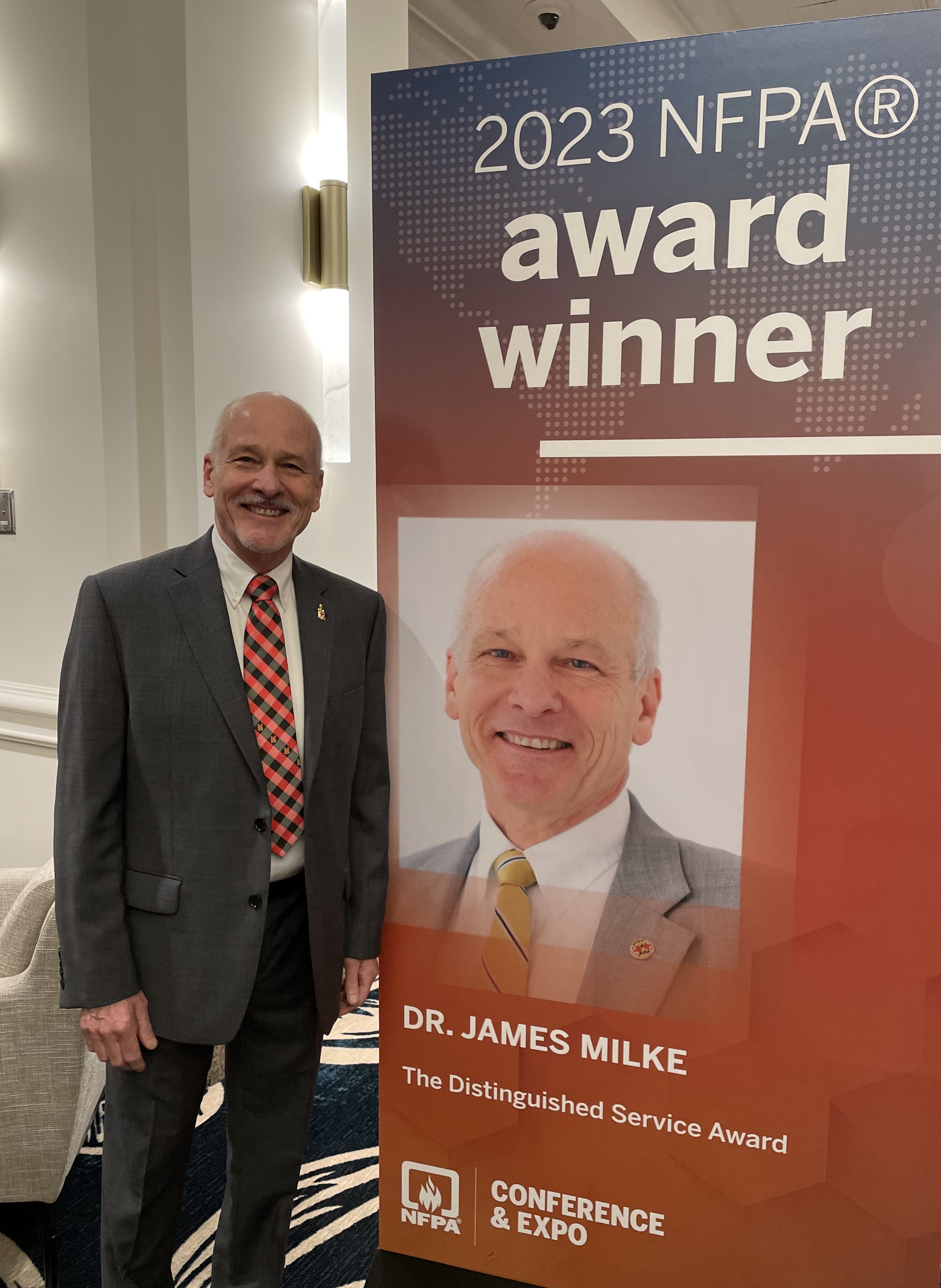 On Sunday, June 18, Jim Milke, professor and chair of the University of Maryland (UMD) Department of Fire Protection Engineering (FPE), was honored by the National Fire Protection Association (NFPA) with the 2023 Distinguished Service Award.
Milke received his award at the Stars at Night awards gala held in Las Vegas as part of the annual NFPA Conference and Expo. This award, which recognizes the outstanding accomplishments of individuals in service to the NFPA and the promotion of the field of fire safety, recognizes special achievements and is not necessarily given every year. Among the most prestigious honors presented by the NFPA Board of Directors, the award honors recipients whose dedication and commitment to the organization's mission are longstanding and encompass multiple areas of involvement and impact.
Milke has served on the FPE Faculty at Maryland for more than 40 years, serving as chair for the last 12 years. Prior to his time at Maryland, he was a Fairfax County, Va. fire protection engineer and also served as a research fire prevention engineer at the National Institute of Standards and Technology. In addition to being a life-member of the NFPA, Milke is a former member of the NFPA Standards Council and NFPA Fire Tests Committee, as well as a current member and past chair of the NFPA Committee on Smoke Management Systems. He is a fellow and past president of the Society of Fire Protection Engineers, and after the 9/11 attacks, Milke served on FEMA's Building Performance Study Team that investigated the World Trade Center catastrophe. Additionally, he was the lead organizer of the inaugural UMD-NFPA Fire and Life Safety Ecosystem Symposium, which was held in September of 2022.
A total of five UMD/FPE alumni were recognized for an array of awards at this annual event; the other four awardees were former FPE students who were taught and/or mentored by Milke:
Jerry G. Back, the Fire Protection Research Foundation Medal Winner, 2022
Casey Grant, the Fire Protection Research Foundation Medal, 2022
Grunde Jomaas, the Harry C. Bigglestone Award, 2023
Daniel J. O'Connor, the Standards Medal, 2023
Milke will officially step down as FPE Chair on July 30 and retire from UMD on September 1.
Published June 23, 2023