FPE Chair Receives UL Fire Council Award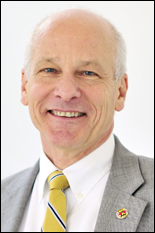 James Milke, professor and chair of the UMD Department of Fire Protection Engineering, was recognized by international safety-science company, UL, for 30 years of service to its Council of the Fire Safety Research Institute (FSRI). Milke received the 2018 Fire Council Service Award on May 7. This week also marks Dr. Milke's 70th semester of teaching.
UL FSRI is dedicated to increasing firefighter knowledge to reduce injuries and deaths in the fire service and in the communities they serve.
Congratulations and thank you, Dr. Milke!
Published May 9, 2018