FPE Alumnus Personifies the American Dream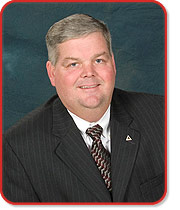 Jack Poole (FPE '86), Prinicpal of Poole Fire Protection, has sought to emulate the community atmosphere he experienced while a student at the University of Maryland, Department of Fire Protection Engineering. In his continuing involvement with the Department, Poole sees the passion for the fire protection field and communal atmosphere expressed by the current faculty and staff.

John W. "Jack" Poole, III, came from humble beginnings. He grew up on a farm in Jarrettsville – a part of Maryland abundant in natural beauty, but lacking in activities for the vigorous teenager. That left a young Jack Poole with plenty of time to tail his father to the local firehouse, where J. William (Bill) Poole, Jr. was a volunteer. At age 16, Poole officially joined the fire department as a volunteer, kicking off a life-long career in the fire protection field. Another firehouse volunteer, Quinn Schilling, who was a student in the UMD FPE program at the time, encouraged Poole to join the Department after high school. After a pit-stop at a local community college, enroll he did; however, raising money for tuition was no easy feat.
On the advice of FPE Founding Chair, John L. Bryan, Poole entered a 'live-in' program – with the Silver Spring Fire Station #19 in Montgomery County – where he exchanged work as a firefighter for room and board. Additionally, the Maryland Firefighter's Association covered his tuition and books allowing Poole to graduate from UMD in 1986 debt-free and with more job-offers than he could keep track of.
"I couldn't have asked for better circumstances," said Poole. "The time I spent living in the firehouse gave me focus, and allowed me to complete my studies at UMD with hands-on experience."
Shortly after graduation, Poole – looking for personal and professional growth, opportunity, and an affordable quality of life – accepted a position as Fire Protection Engineer with Black and Veatch, an engineering and consulting firm, located near Kansas City. Poole and Laura, his wife, both worked for the firm simultaneously for five years, before Mr. Poole decided to branch off on his own. While Laura remained at Black and Veatch, Jack started his own consulting firm – Poole Fire Protection – in the basement of their home. Less than a year later, the firm required additional space – and employees – including a manager of business operations, a position Laura Poole graciously filled. Today, the firm is the only one of its kind in the U.S. that is licensed to operate in every state, except for Hawaii, and all three U.S. territories.
What sets Poole Fire Protection apart from other firms? "Quality," says Mr. Poole. "And the fact that we are a small, family-oriented business. Clients enjoy being on a first-name basis with our employees – they gravitate towards our sense of community."
In addition to managing his consulting firm, Jack volunteers as a firefighter and Fire Marshal for the South Johnson County Fire Department, and is active in several professional organizations – the Society of Fire Protection Engineers (SFPE), the National Fire Protection, and the Oklahoma State Fire Protection and Safety Engineering Technology Advisory Board, to name a few. A Professional Engineer (PE) in fire protection, Poole has designed fire suppression, and fire alarm and detection systems for clients across the globe. Moreover, he has been recognized for his contributions on numerous occasions. In 2014, for example, he received the Engineer Innovation Award from Siemens and the Glenn L. Martin Medal from the UMD Clark School of Engineering. In 2015, he was named one of FPE's Distinguished Alumni, and the following year, he received the FPE John L. Bryan Award from SFPE for his generous contribution to the Department. Poole currently Chairs the FPE Board of Visitors and was recently inducted as a member of the Clark School Board of Visitors.
His extracurricular activities aside, Mr. Poole is currently in the process of starting two additional businesses. PRO3, Inc., already up and running, offers design of unique fire protection systems, installation and implementation – a one-stop shop, if you will. A major selling point for their clientele is that PRO3 is run entirely by fire protection engineers, rather than general contractors. The third company, Integrated Fire Commissioning Solutions (IFCS), is a commission and inspection testing company that commissions and maintains the large systems it installs long-term.
Continuing in their father's footsteps, Drew and Stephanie – children of Jack and Laura – also graduated from the UMD Department of Fire Protection Engineering recently. Both have returned to Kansas, are working for their dad, and preparing to take over the family businesses. Indeed, Jack is looking forward to retiring at some point in the not-so-distant future.
"I'm ready to purchase a motorhome, pack a few things and get on the road – there's plenty of this country that Laura and I have yet to see – and we're ready to hit the professional brakes a bit," said Poole. "Maybe I'll do some consulting from time to time, just to keep my mind sharp," he added with a grin.
To current students of the FPE program, Poole advises, "Interview with anyone who comes to campus, and interview well. Meet as many people in the field as possible. Get as much experience as you can, and have a good idea of the direction you want your career to take. It's amazing how far an education, combined with a little perseverance and tenacity can take you."
Published October 6, 2017