Fire Protection Startup Wins Awards in MIT Clean Energy Prize Competition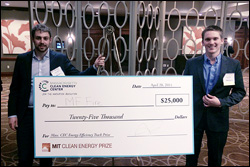 MF Fire, a startup company with roots in the University of Maryland's Department of Fire Protection Engineering, won the $25,000 Energy Efficiency Track Prize and a People's Choice Award in the Grand Final round of the MIT Clean Energy Prize competition, held in Boston on April 28. The young company presented Mulciber, an innovative, 93% efficient, wood-burning stove with "almost unmeasurable" emissions.
Co-founded by Department of Mechanical Engineering graduate student Taylor Myers (B.S.'12, fire protection engineering) and Ryan Fisher (B.S. '12 and M.S. '13, fire protection engineering), MF Fire is hoping to commercialize stoves based on the one designed by Clark School students for the 2013 Wood Stove Decathlon. After their team won the decathlon's Lowest Emissions Award, Myers and Fisher founded MF Fire, went on to compete in the 2014 ACC Clean Energy Challenge, and received a TEDCO Maryland Innovation Initiative (MII) grant to develop the stove's next prototype.
The Mulciber Stove, targeted at low-to-mid income households without access to natural gas, includes a forced air system, pressurized combustion chamber, and self-cleaning filter. Its chimney-within-a-chimney warms incoming air and cools exhaust, which improves efficiency and reduces emissions and heat waste. Some of the heat it generates is converted into the electrical energy that powers its fans.
"Our MF Fire team is tremendously excited about our accomplishments and finish at the MIT Clean Energy Prize," says Fisher. "Not only will the prize help [us] continue our work on the Mulciber Stove, but perhaps more importantly we were able to connect and network with [clean energy] professionals in all capacities...Who knows where those types of relationships may take us?"
"It was great to meet a lot of entrepreneurs and energy officials, and get such positive feedback," adds Myers. "One of the judges said that ours was the best presentation he's seen in eight years of listening to business pitches. We're proud to be representing Maryland and so excited for the chance to work on this project."
MF Fire will continue to promote the Mulciber Stove at business plan competitions. In April, the company won the Maryland semifinal round of the national RECESS Business Pitch, and is preparing for the finals in late May.
For More Information:
Watch a National Geographic video about how the Mulciber Stove works
Published May 1, 2014