SFPE Wins Engineering Field Day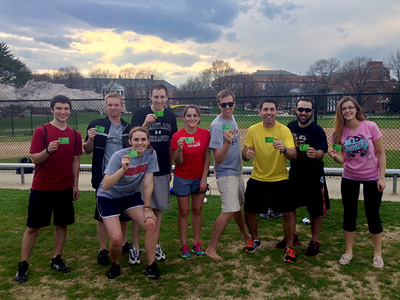 The University of Maryland chapter of the Society of Fire Protection Engineers (SFPE) took first place in Engineering Field Day, a competition between engineering societies organized by the Engineering Student Council. The team of ten students proved to be the superior athletes in events including a water balloon toss, hula-hoop contest, four-legged race, and a dizzy bat relay, but their grip on the lead was initially in jeopardy.
"The odds were against us, being down two players at the beginning, but with our team's determination and FPE spirit we were able to pull off a victory," says FPE graduate student Jerry Taricska.
"The weather was gorgeous and we had a great time competing against other engineering societies," senior Maria Theodori adds. "The win was also pretty sweet after not having placed in Alumni Cup this year, and we each received $10 Looney's gift cards!"
Theta Tau, the professional engineering fraternity, came in second place, and AΩΕ, the professional and social engineering sorority, took third.
"[It] provided an opportunity for team bonding within SFPE," says senior James Turcotte. "It's nice to have events that bring other engineering students together as well."
Published May 2, 2014