Theodori Wins Bryan Graduate Research Assistantship Award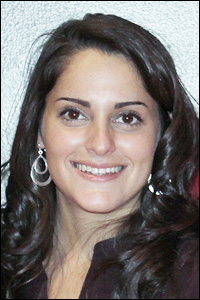 Department of Fire Protection Engineering (FPE) senior Maria Theodori has been awarded the 2014 John L. Bryan Graduate Research Assistantship (GRA). Theodori, who will receive her B.S. this December, will join the department's graduate program in January 2015.
Theodori, who will be advised by Associate Professor Arnaud Trouvé, will work to improve and validate simulations of wildfire spread behavior generated by EnKF-FIREFLY, a data assimilation algorithm created by Trouvé and his collaborators and used to reduce uncertainties in estimating fire dynamics. Her goals are to create more accurate wildfire forecasting, improve suppression strategies, and track the fires' after-effects on the environment.
"Wildfires have become a topic of great concern because of the difficult-to-predict nature of flame propagation and the toxic emissions that come from those flames," Theodori explains. "Research has been conducted on developing forecast capabilities for wildfire spread using data assimilation. The research-scale models have been successful, but have not yet taken into account large-scale spatial variations of wildfire parameters such as topography, wind speed and direction, and different types of biomass fuel. Our objective is to use large-scale data from either a past controlled burn or an accidental fire to provide the first real-world evaluation of the FIREFLY model."
Theodori will develop system tests and perform data analysis in collaboration with Assistant Professor Michael Gollner (FPE) and Research Assistant Professor Evan Ellicott (Department of Geographical Sciences). She will also work with Associate Professor Kayo Ide (Department of Atmospheric and Oceanic Science) to produce the data assimilation algorithms the project requires. Her efforts will contribute to a larger project that recently received a University of Maryland Council on the Environment's (ConE) Seed Grant for Interdisciplinary Environmental Research.
"I am really looking forward to the research," Theodori says, "and I am so grateful that the assistantship will allow me to complete my Master's degree without financial burden."
The John L. Bryan Chair Endowment funds one GRA each year, awarded on a competitive basis to an outstanding, incoming M.S. student. Successful applicants are selected in part based on the strength of their thesis project proposals.
Published May 14, 2014