FPE Hosts Fire Science Session for Maryland Counts Students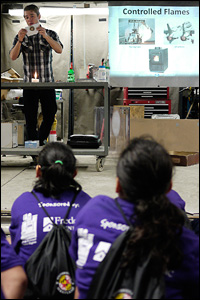 Children from four regional elementary schools recently learned about basic fire science from Department of Fire Protection Engineering (FPE) graduate student Isaac Leventon. The visit was part of Maryland Counts Day, a campus tour for students participating in America Reads*America Counts. The after-school program, which provides reading and math tutoring for fourth-grade students, is made possible by a partnership between the University of Maryland and Prince George's County Public Schools.
The students were celebrating their academic accomplishments by taking part in activities that highlighted the things that understanding math makes possible, meeting University of Maryland students, and discovering what a college campus is like.
In the Rolf Jensen & Associates Fire Science Laboratory, Leventon (after warning the students they should not try what he was going to show them at home) began by explaining what fire is, and the three things required for starting one: air, heat, and fuel. Using a candle and small pool fires, he showed the students how changing or the absence of one any one of these affected the flame. He discussed flame temperature and structure, how soot forms and behaves, how a container affects the size and shape of a flame, and how a flame gets its color from the particles released by its fuel.
Popular demonstrations (conducted at a safe distance) included burning alkali metal salts to change the color of a flame; changing air currents to create a miniature "fire tornado"; and lighting a dollar bill on fire without burning it to show how different fuels vaporized at different temperatures.
"I'm quite lucky to be able to participate in this event," says Leventon. "I truly enjoy being able to share and explain such a seemingly complex phenomenon in a straightforward, easy-to-understand way, especially when the audience is so fun to work with. "
He hopes his demonstrations excited the students and will inspire them to explore these topics when they return to school. "Science and math are both awesome," he adds, "even more so when we can use them to understand the world around us."
Published May 21, 2014