Myers Joins Future Faculty Program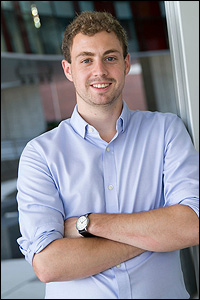 The Department of Fire Protection Engineering (FPE) at the University of Maryland extends its congratulations to Ph.D. student Taylor Myers (B.S.'12 and M.S. '14, advised by Associate Professor Andre Marshall), who was among only 24 students chosen to join the 2015 Future Faculty Program cohort.
The A. James Clark School of Engineering's Future Faculty Program prepares doctoral students for career-long success in the academic world as mentors and researchers. Participants build skills in areas such as technical and grant writing, curriculum development, teaching, research, oral presentations, applying for academic positions, and interviewing. The program, which includes seminars, a teaching practicum, and a research mentoring practicum, takes three to five semesters to complete.
When he joined FPE as an undergraduate, Myers assumed his education would conclude with his B.S. "I didn't have plans to enter graduate school, much less enter academia as a faculty member," he says. "Now, not too many years later, I can't imagine leaving the university behind… academia provides the freedom to pursue my interests and the opportunity to tackle problems with meaningful impact."
Myers hopes participating in the Future Faculty Program will not only help him stand out when applying for highly competitive positions, but also prepare him for the challenges that come with earning tenure and forging a career as a professor.
Academia is not Myers' only passion. Over the past few years, he's been gaining recognition as the CTO of MF Fire LLC, a startup company he cofounded with fellow FPE alumnus Ryan Fisher (B.S. '12 and M.S. '13). MF Fire is working to commercialize Mulcibler, a near-emissionless, 93 percent efficient wood stove. The company and its product have won numerous awards in technology- and energy-oriented competitions. Most recently, Myers was named one of the Maryland Daily Record's 2014 Innovators of the Year for his role in developing Mulciber.
Myers doesn't believe his entrepreneurial and academic goals conflict, or that he must choose one over the other.
"Academia provides many of the same opportunities and challenges as entrepreneurship," he explains. "A successful professor is tasked with identifying a meaningful problem, raising funds, leading a team, and ultimately solving that problem. The National Science Foundation recognizes this, and recently started the I-Corps program to provide academics the tools to commercialize the solutions that they've created. I was lucky enough to participate in this program with MF Fire in the spring of 2014. I'm looking forward to unifying these two complementary spheres to make a meaningful difference in my little corner of the world."
Published February 9, 2015