WUSA-9 Consults Milke on Deadly Metro Smoke Incident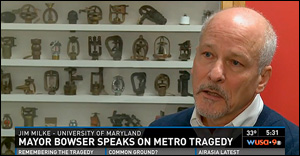 Reporter Bruce Johnson of Washington, D.C. CBS affiliate WUSA-9 consulted Department of Fire Protection Engineering (FPE) professor and chair Jim Milke for his channel's coverage of an incident on the Metro Monday afternoon that claimed the life of one passenger and sent 84 others to area hospitals. An excerpt of the interview was featured in a Tuesday evening news segment.
Johnson came to campus to learn more about the probable nature of the smoke that filled a train stopped in a tunnel, and eventually the L'Enfant Plaza Metro Station. Milke also commented on how the incident was being discussed in FPE classrooms.
WUSA-9 is reporting that the National Transportation Safety Board's (NTSB) preliminary findings indicate that an electrical arcing event involving the track's third rail and associated cables was the cause.
Watch WUSA-9's report below or on the station's web site, which features additional information and ongoing coverage of the event.
Published January 14, 2015