FPE Undergraduates, Professor Share New Experiences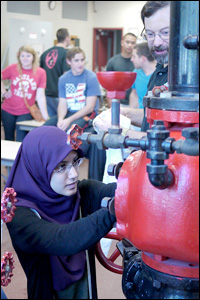 Other than having to retrieve a page of data carried by a gust of wind into the campus sheep pen, the 2014 Pump Day was a success.
Outside the University of Maryland's Physical Sciences Complex, half of the ENFP 310: Water-based Fire Protection Systems Design class clustered around an open hose valve, measuring flow with a pitot gage as water gushed into the street. Inside the building's pump room, alumnus Ken Isman (B.S. '86) was with the rest of the students, taking speed and pressure readings while monitoring the pump's controller. Isman had visited campus to host Pump Day for over 15 years, but this was the first time he had done it as a member of the Department of Fire Protection Engineering's (FPE) faculty.
Isman, FPE's first clinical professor, joined the department in Fall 2014. His appointment was made possible by donations to FPE's Legacy Campaign for a Professor of the Practice and support from Professor Darryll Pines, dean of the A. James Clark School of Engineering.
Isman's primary mission is to increase the number of real-world and hands-on experiences in the undergraduate curriculum. He spent his first semester teaching ENFP 310 and ENFP 250: Introduction to Life Safety Analysis, both of which gave him the opportunity to share his expertise in and decades of experience with fire pumps and sprinkler systems.
"We definitely gave the students some tools this semester that they can use not only in their careers as FPEs, but also hopefully in part time jobs or internships now, as undergraduates," says Isman. "They can already start making a difference with the knowledge they have."
FPE sophomore Casey Beall, who took ENFP 250, agrees. "I was able to see exactly how [what we learned] related to the work I would be doing as a professional engineer," she says. She particularly enjoyed the course's group project, in which students used the National Fire Protection Association's Life Safety Code®, also known as NFPA 101, to perform a full life safety analysis of the university's Computer Science Instructional Center. "I liked being able to think critically about a real life problem," she adds.
Learning to use NFPA 101 and working with an actual pump system helped FPE junior Matt Rabush, who was enrolled in both courses, get a better idea of where his studies are taking him and what to expect in the field. "If anything," he says, "these classes reaffirmed that FPE is the major for me."
FPE junior Stephen Kostka, who took ENFP 310, also found his focus. "[The] class really helped shape my idea of what I want to do when I graduate," he says. "I had been leaning back and forth between nuclear power and fire protection. Now I'm planning on attempting an FPE internship for the summer."
Kostka says the course included many more examples of practical application than he was expecting. A group design project in which he had to lay out a sprinkler system and perform related hydraulic calculations, he adds, felt like a "more realistic" method of testing what he'd learned in class, at Pump Day, and on a visit to the Maryland Fire and Rescue Institute's sprinkler lab.
"[ENFP 250] was a lot more discussion-based than many of my other engineering courses," says FPE sophomore Chris Lee. "Mr. Isman was more than willing to break off from [the lesson] and have a dialogue with the class about his experiences with the topic, and to answer any questions we had. It was great hearing from someone who has so much experience working in the field."
One of the challenges Isman says he faced was the need to adjust his assumptions about what his students already knew. "I'm used to teaching people who have had some introduction to or some familiarity with the construction industry," he explains, "but I discovered my students here hadn't had that exposure yet. We had to add some fundamental discussion about construction techniques and terminology to the curriculum." He hopes current campus construction projects–such as Clark Hall and the renovation of Cole Field House–will give his future students the opportunity to see firsthand how fire protection systems are designed and installed.
Isman says the best part of his new position has been getting to know his students, a luxury he didn't have when teaching short courses in the sprinkler industry. "The FPE students I've encountered all seem to be very enthusiastic," he says. "They're interested in something that they can see will make a difference in the world. I'm looking forward to having them in my classes again."
Published January 14, 2015