Protecting Our Forces Abroad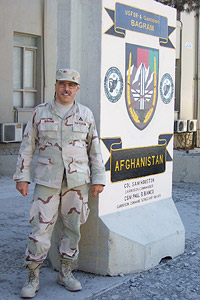 Department of Fire Protection Engineering (FPE) alumnus Chris Giordano (B.S. '83) once found himself wishing for the "good old days." He was in Afghanistan, and his U.S.-standard Hose Monsters wouldn't connect to the foreign hydrants he had to test.
"What I needed was a plain, old-fashioned, handheld pitot gage, and I couldn't find one anywhere!" he laughs. Many years and thousands of miles away, the situation made him think of FPE's Testudo mascot, who holds one in his hand.
Giordano, a civilian employee of the U.S. Army Corps of Engineers, is currently the lone fire protection engineer at Bagram Airfield, the largest U.S. base in Afghanistan. It's his responsibility to ensure that new military construction projects comply with the same building and life safety codes as they would in the States, and to upgrade or improve existing facilities that don't. This is his third tour.
Giordano, who has worked for the Army Corps since 2001, oversees the functionality and repair of the base's fire alarms, sprinklers, pumps and stairwells, and has also worked with foam generation systems in cargo plane hangars.
It's a big change from his usual base of operations, an office in Baltimore where he designs and reviews fire protection systems with architects and contractors.
"[Bagram is] very fast-paced and I'm doing more hands-on inspections and acceptance testing," he says. "It's good to get back in the field every now and then."
The job is not without its challenges, including periodic rocket attacks. Giordano is not allowed to leave the base except under escort for specific work. Although Bagram Airfield offers recreation and entertainment, his days are usually long and he doesn't get weekends off. There's always work to be done, he says, and very little downtime. Not all of the civilians who come to the base last.
Despite this, he says, he doesn't regret his decision to work at Bagram ("not one little bit!"), and appreciates that the Army Corps of Engineers has allowed him the flexibility to serve.
"I'm amazed that we are striving, even over here, for a level of fire protection engineering that is equivalent to what we have back in the United States," he says. "I believe I've made a difference in that the projects that I have been involved with are fully compliant with the applicable codes." It's especially important, he adds, because Bagram Airfield is an "enduring base," meaning it will be there as long as there is any kind of U.S. presence in Afghanistan.
When he came to the University of Maryland as an undergraduate, Giordano only knew he wanted "to be an engineer in general." He had never heard of fire protection engineering. One of his roommates, a declared FPE major, told him all about it, and he gave it a try. What started out as something that "looked different and interesting" blossomed into a passion for the discipline.
"I believe that a degree [in FPE] would serve anybody well," says Giordano. "It's a good opportunity to interface with a lot of disciplines…you're working with the architect, you're working with the electrical, you're working with the mechanical…I really like that."
Giordano recently decided to give back to the department that prepared him for a career he loves by donating to FPE's Legacy Campaign, which supports practical application in the department's undergraduate curriculum and enhanced industry relations though the creation of an endowed clinical professorship.
"Fire protection engineering has rewarded me greatly over the years and has provided for my family," says Giordano. "I've never wanted for a job."
"We are grateful for all of the donations we've received, whether large or small, and no matter who they're from," says FPE Development Officer Allison Corbett. "When we heard from Chris, we were so touched that someone who was deployed to a war zone took the time to write a check in support of the campaign because he so fully believed in what we are trying to accomplish."
Published January 14, 2015