Fire Protection Engineering Appoints First Clinical Professor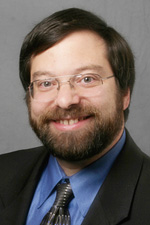 The University of Maryland's Department of Fire Protection Engineering (FPE) is pleased to announce the appointment of its first endowed Clinical Professor, Kenneth E. Isman (B.S. '86, fire protection engineering).
Isman's appointment was made possible by FPE's Legacy Campaign for a Professor of the Practice. Launched in 2012 by a group of FPE alumni, departmental and Clark School leadership, the campaign has raised almost $1.3 million toward its $2.5 million goal. Financial support from A. James Clark School of Engineering Dean Darryll Pines enabled Isman's hiring and arrival this August, while the campaign is still ongoing.
"As the only ABET-accredited undergraduate FPE program in the world and one of only three graduate FPE programs in the United States, the continued strength of the department depends on our ability to maintain a balance between covering the applied aspects and contributing to research advances in the field," says FPE Professor and Chair Jim Milke. "Ken will be responsible for teaching a group of courses in the applied aspects of our curriculum, including the design of fire protection systems, such as suppression systems."
The addition of a Clinical Professor to the FPE faculty will ensure that it remains at the forefront of its field, cultivates future generations of industry-savvy graduates, and conducts applied research. The Clinical Professor's role is to bring hands-on field experience to the undergraduate curriculum and strengthen the department's and the Clark School's ties with industry.
From 1987 to 2014, Isman was an engineer with the National Fire Sprinkler Association (NFSA), where he ultimately rose to the position of Vice President of Engineering. He is a Licensed Professional Engineer in the State of Connecticut and is an elected Fellow of the Society of Fire Protection Engineers (SFPE). Isman has represented the fire sprinkler industry on over a dozen of the National Fire Protection Association's (NFPA) technical committees, including the Technical Correlating Committee on Automatic Sprinklers, the Committee on Residential Sprinkler Systems, the Committee on Sprinkler System Discharge Criteria and the Committee on Fire Pumps. From 2000 to 2006 he was a member of the NFPA Standards Council. In addition to his B.S. in fire protection engineering, Isman earned his M.S. in management from the University of Maryland University College (UMUC) in 2003.
A noted author and lecturer, Isman has written and edited numerous publications and handbooks for the NFSA and SPFE, including the textbook Layout, Detail and Calculation of Fire Sprinkler Systems and the Fire Pump Handbook and Pumps for Fire Protection Systems, co-authored with Milosh Puchovsky. He wrote a regular technical article for the NFSA's SQ Magazine and served as the editor of Sprinkler TechNotes, its bimonthly newsletter. He has been a speaker at more than 500 seminars and workshops on fire protection systems.
"I am delighted that the department has selected Mr. Ken Isman, who is an outstanding leader in the fire protection engineering community, to serve as its inaugural Clinical Professor," says Pines. "He brings a wealth of knowledge with him and our students will undoubtedly learn from his years of professional practice."
To learn more or to contribute to the Legacy Campaign, visit fpe.umd.edu/legacy-campaign, or contact Kyle Zeller at 301-405-5841 or kzeller@umd.edu.
Or, donate online
Published June 24, 2014