Leventon Receives 2013 SFPE Student Scholar Award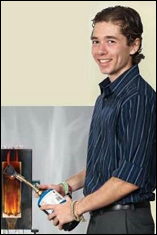 Fire protection engineering student Isaac Leventon has been selected as the recipient of the 2013 Society for Fire Protection Engineers (SFPE) Engineering and Scientific Foundation Student Scholar Award. He was selected for his work entitled "A Novel Approach to Predicting Upward Flame Spread over Polymers."
Isaac will give a 30 minute presentation based on his work at the SFPE Annual Meeting on Tuesday, October 29, 2013 in Austin, Texas. More details about the meeting can be found on the SFPE website.

Leventon is a doctorate student at the Clark School.
View more information about his research.
Published May 30, 2013