UMD Fire Protection Research Highlighted by National Science Foundation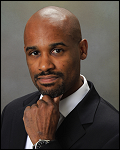 The National Science Foundation (NSF) has highlighted A. James Clark School of Engineering faculty member Dr. Andre W. Marshall's research in fire suppression systems on its Science, Engineering & Education (SEE) Innovation website.
Dr. Marshall's research, which is funded by a NSF grant, is focused on measuring discharge characteristics from fire sprinklers to support the development of models used to predict the formation and dispersion of sprays from sprinklers. This research has already led to advancements in the ways fire suppression system sprays are analyzed and measured. Future implications could include improved performance of sprinkler systems through better design of the sprinkler heads, improved fire protection engineering practices used in codes and standards, and the optimization of fire suppression systems.
Dr. Marshall is an associate professor in the Department of Fire Protection Engineering, as well as the director of the Fire Testing and Evaluation Center (FireTEC) at University of Maryland.
View the NSF SEE highlight: http://ter.ps/2ol
Learn more about Dr. Marshall's research: http://ter.ps/2om
Published June 10, 2013