FPE team wins 2nd place at ANSI-NIST Student Competition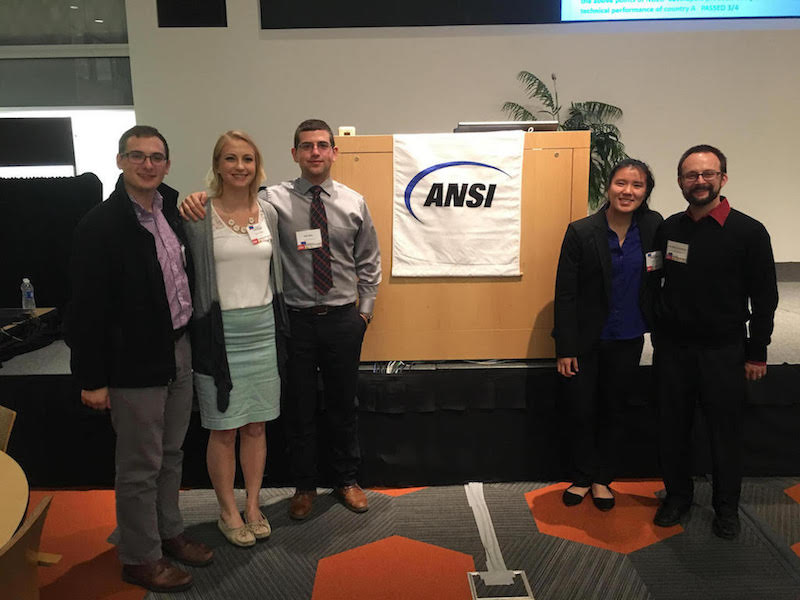 A team of five Clark Engineering School students won second place at the 2016 ANSI-NIST Standards Simulation Student Competition. The competition took place Oct. 24, 2016, in Washington DC.


The team members were Paul Anderson (ME Ph.D. student), Julie Bryant (FPE undergrad), Selena Chin (FPE undergrad), Peter Danis (FPE undergrad), and Nate May (FPE M.S. student). The team faculty advisor was
Peter Sunderland
(FPE).


The
American National Standards Institute (ANSI)
hosted the competition as part of the 2016 World Standards Week series of meetings and celebrations. The
National Institute of Standards and Technology (NIST)
co-sponsored the competition. Judges from ANSI and NIST observed the negotiations and selected the winning teams.


The competitors were university teams, each with up to five students and one professor. The teams represented stakeholders in the development of an international communication standard. Each team was asked to negotiate according to the interests of their stakeholders. After several rounds of voting, the teams voted to adopt a standard they had written.
Published October 25, 2016