Bustamante Wins Prestigious NASA Fellowship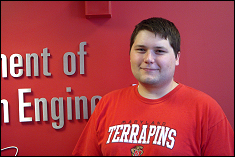 Fire Protection Engineering M.S. student Michael Bustamante has been selected as a NASA Space Technology Research Fellow for 2011/2012. Bustamante's application was entitled "Burning Rate Emulator Experiments for Spacecraft Fire Safety" and he is advised by Associate Professor Peter B. Sunderland (FPE) and Professor James G. Quintiere (FPE).

Bustamante is a Graduate Research Assistant working in fire protection engineering and his research is focused on experimental investigation of emulated burning rate at various gravity levels.

About the fellowship

NASA's Space Technology Research Grants Program will accelerate the development of "push" technologies to support the future space science and exploration needs of NASA, other government agencies and the commercial space sector. Innovative efforts with high risk and high payoff will be encouraged. The program is composed of two competitively awarded components, fellowships and grants.

Being selected as a fellow is a distinct honor and involves competitive selection of U.S Citizen or permanent resident graduate student research (Master's and Doctorate) that shows significant promise for future application toward NASA missions and strategic goals. Selected candidates perform graduate student research on their respective campuses and spend some time at NASA Centers and/or not-for-profit research and development laboratories. In addition to a faculty advisor, each student is matched with a researcher in the relevant field who will serve as the student's professional advisor. The program plans to build up to supporting 500 active students per year.

Bustamante's fellowship includes a student stipend, faculty advisor funding, on-site allowance, and support for health insurance and tuition and fees. He will spend time conducting research at NASA Glenn Research Center in Cleveland, OH.
NASA News Release:
NASA Awards Space Technology Research Fellowship Grants
Published July 14, 2011