Baker to Receive System Staff Award and Campus Recognition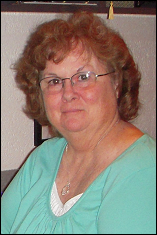 Patricia C. Baker, Program Management Specialist in Fire Protection Engineering (FPE), will be honored by the University System of Maryland (USM) Board of Regents (BOR). The BOR has selected Baker as a recipient of the 2011-2012 USM Board of Regents' Staff Award in the category of Outstanding Service to Students in an Academic or Residential Environment – Nonexempt Staff.
Baker is the only staff member from the College Park campus to be recognized this year. The award is the highest honor to be bestowed by the BOR to recognize exemplary staff achievement. She will be recognized publicly at a ceremony prior to the start of the next BOR meeting on September 28, 2012 at Bowie State University.
In addition to the Regents' honor, Baker will be recognized by campus with a President's Distinguished Service Award on October 9th at the 29th Annual Faculty and Staff Convocation in the Memorial Chapel.
Baker joined the University in 1978 as a secretary in Counseling and Personnel Services in the College of Education. In the early 1980s she came to the School of Engineering and, over the years, held positions as the graduate secretary in Mechanical Engineering and Aerospace Engineering. She has nearly 34 years of service with the university.
"Pat is the glue that holds our department together..."
Known for her many contributions and kindnesses, Baker is a favorite of students, alumni, faculty and staff who routinely attest to her positive qualities. Pat plays an especially important role in the lives of the students, supporting them and making a difference in their lives as they progress through the FPE undergraduate and graduate programs.
"She thrives on making people feel better and in giving of herself," says Dr. Marino di Marzo, professor, director of facilities for the Clark School and past department chair. "She makes anyone who comes to her desk, whether it is a student, faculty member, alumnus or visitor, feel as though their request is the most important task at hand."
"Pat is the glue that holds our department together," says Dr. James A. Milke, professor and chair, fire protection engineering. "Students approach her when they are faced with any sort of difficulty or need help with administrative issues. In all cases, she maintains a positive demeanor and assists them. Similarly, Pat is always willing to assist faculty and staff with any administrative matter that they need to have addressed."
In 1995 Baker was the recipient of the Clark School's Outstanding Staff Service Award.


Published September 13, 2012