FPE Shines at 10th Symposium of the IAFSS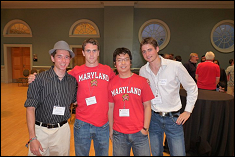 The Department of Fire Protection Engineering (FPE) hosted the 10th Symposium of the International Association of Fire Safety Science (IAFSS) from June 19-24 in the Adele H. Stamp Student Union on the University of Maryland campus. Over 320 participants attended the symposium, traveling from 25 countries (the symposium featured approximately 135 participants from the US and Canada, 115 from Europe and 70 from Asia and Oceania).
The symposium was a great success, including an extensive technical program and diverse social activities such as a Maryland crab feast, an outing to see the Washington Nationals major league baseball team, and an awards banquet held in the Samuel Riggs IV Alumni Center in College Park. For more details, visit the Symposium website.


FPE Associate Professor Arnaud Trouvé served as chair of the symposium's Host Committee and worked tirelessly for two years in preparation for the meeting and to insure that FPE represented UM, the Clark School and the profession at their best during this triennial international conference.

Associate Professor André W. Marshall (FPE) was a keynote lecturer and delivered a plenary paper entitled "Unraveling Fire Suppression Sprays." Marshall was honored at the Symposium Banquet with the Philip Thomas Silver Medal of Excellence for the Best Paper of the Previous Symposium and accepted it on behalf of himself and co-authors, alumni Andrew Blum (B.S. '04, M.S. '07), Chi Do (B.S. '08, M.S. '09) and Ning Ren (M.S. '07, Ph.D. '10), and doctoral student Yinghui Zheng (M.S. '09).


Professor James G. Quintiere (FPE) was honored at the banquet with the Kunio Kawagoe Gold Medal for Outstanding Lifelong Contributions to Fire Safety Science.

Associate Professor Peter B. Sunderland (FPE) led a student session on the opening day of the symposium that was attended by approximately 60 students and included time for them to network and to explore collaborative opportunities.

Additional participation by FPE faculty, alumni and students included:


"Rethinking Water Based Fire Suppression: Discovering Opportunities for Innovation" workshop co-chaired by Marshall with Guangxuan Liao, State Key Laboratory of Fire Science, PR China.
"Liquid Expansion in Glass Sprinkler Bulbs" presented by Sunderland, Assistant Professor Stanislav I. Stoliarov and graduate students David Yates and Chris Campbell.
"Local Extinction of Diffusion Flames in Fires" presented by alumni Vivien Lecoustre (Ph.D. '09) and Praveen Narayanan (Ph.D. '10), and Glenn L. Martin Professor Howard Baum and Associate Professor Arnaud Trouvé.
Downloads and links from the symposium, including video of the keynote lectures and access to the proceedings, are available here.
Published July 13, 2011