Welch Promoted at Marriott International, Inc.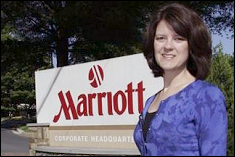 Congratulations to Department of Fire Protection Engineering alumna Stacy (Niedhart) Welch, (B.S., '97) who has been named Senior Director, Fire Life Safety, Marriott International, Inc., effective July 2012. Welch will be responsible for global fire protection and life safety for the organization.
Welch has been with Marriott for fifteen years and has held numerous management positions, including her most recent role as director responsible for fire life safety matters related to additions, renovations and the inspection program for nearly one-thousand hotels. She is known for her vast fire life safety experience with new build construction and conversions, along with her technical expertise, code knowledge and proven leadership. She has authored several professional publications on subjects such as fire alarm communications, water mist fire suppression and the economics of automatic fire sprinklers.
Welch is a registered professional engineer (P.E.) and serves as a member of the Curriculum Advisory Committee of the Department of Fire Protection Engineering. She resides in Bethesda, Maryland, with her husband Dave and their two daughters, Allison and Kathryn.
Published June 13, 2012