FireTEC Launches Blog and Website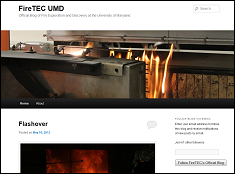 Associate Professor Andre W. Marshall, director of the Fire Testing and Evaluation Center (FireTEC) in the Department of Fire Protection Engineering (FPE), has announced the launch of FireTEC UMD - Official Blog of Fire Exploration and Discovery at the University of Maryland. The FireTEC blog, initiated in April 2012, highlights laboratory activities and welcomes undergraduates, graduate students, faculty, staff, alumni, friends and laboratory stakeholders to participate.
You may visit the blog or choose to subscribe at the link below. Just enter your email address and click on "Follow FireTEC's Official Blog" button on the right hand side of the web page.


FireTEC UMD will offer interesting stories and updates on activities in the word-class fire laboratories at the University of Maryland. Laboratory activities range from simple demonstrations of fire phenomena to cutting-edge government-funded research.
Also, FireTEC has a newly re-designed website that launches June 8th, 2012. We'd love to hear feedback on what you think of it.
FireTEC UMD blog: http://firetecumd.wordpress.com/
FireTEC website: http://www.firetec.umd.edu
Published June 8, 2012