Team Mulciber Featured by Popular Mechanics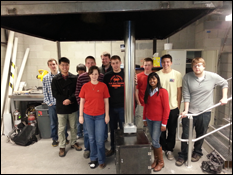 Team Mulciber, a group of students from the Clark School's top-rated Fire Protection Engineering Department, is featured in a Q&A by Popular Mechanics. The team is competing as a finalist in the Next Generation Wood Stove Design Challenge, an exciting international competition sponsored by the Alliance for Green Heat.
Team Mulciber's wood stove design incorporates sensors to optimize performance. "By adding control systems with intelligent use of sensors, we were able to produce a stove that was cleaner, more efficient, and easier and more satisfying to use," said team captain Taylor Myers ('12; M.S. '13, Fire Protection Engineering).
The Challenge seeks to promote modern stove designs, build a community of inventors, and showcase stove innovations to the public. Competitors design and construct affordable, efficient, and easy-to-use wood stoves in the hope of improving a much neglected technology.

Popular Mechanics has also set up a People's Choice award for the Wood Stove Design Challenge. The People's Choice award gives everyone the opportunity to support the University of Maryland's Team Mulciber in the competition. Vote for Team Mulciber: http://ter.ps/mulciber
The Challenge will culminate with a Wood Stove Decathlon on November 16-19 in Washington, D.C.
Read the full Popular Mechanics Q&A here.
Published October 21, 2013