Myers Wins All S.T.A.R. Fellowship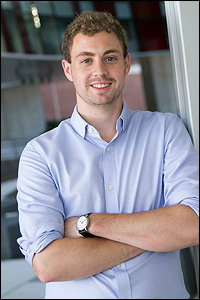 The University of Maryland Graduate School has awarded Department of Mechanical Engineering Ph.D. student Taylor Myers (B.S.'12 and M.S. '14, fire protection engineering) an All-S.T.A.R. (Scholarship, Teaching, Administration, Research) Fellowship in recognition of both his outstanding scholarship and service as a graduate assistant. The award includes a $10,000 stipend.
"Taylor's technical curiosity and enthusiasm are truly inspiring," says Myers' advisor, Department of Fire Protection Engineering (FPE) associate professor Andre Marshall. "He is a powerful catalyst for my research team and the entire department."
Myers' dissertation research is part of a larger project titled "Quantifying Fire-Spray Interactions," which is facilitated by the National Science Foundation's Grant Opportunities for Academic Liaison with Industry (GOALI) program. GOALI promotes university partnerships with industry by supporting interdisciplinary, high-risk/high-gain research.
"My [work on] the project focuses on developing [computational] models that predict the atomization and dispersion performance of fire sprinkler sprays," he explains. "Although fire sprinklers are the most widely used fire suppression systems in the world, present models of sprinkler performance are very limited. Better models would improve both the design and implementation of these sprinklers, and consequently save property and lives."
Myers, who plans to pursue career in academia, is a member of the Clark School's 2015 Future Faculty Program cohort and has served as a TA for FPE's graduate-level course on fire and explosion investigation and reconstruction (ENFP 629N). He is often seen participating in FPE outreach activities, including the FPE Design Challenge, a new semester-long program for young women attending Elizabeth Seton High School in Bladensburg, Md. The program guides students through a hands-on fire protection engineering design project. Myers created the curriculum, established FPE's partnership with the school, and managed a team of undergraduates who helped him teach.
Outside of his studies, Myers is the CTO of MF Fire LLC, a startup company he cofounded with fellow FPE alumnus Ryan Fisher (B.S. '12 and M.S. '13). MF Fire is working to commercialize Mulcibler, a near-emissionless, 93 percent efficient wood stove. The company and its product have won numerous awards in technology- and energy-oriented competitions, and have been profiled by Popular Mechanics, the New York Times, the Washington Post, and National Geographic. In 2014, the Maryland Daily Record named Myers one of its Innovators of the Year for his role in developing Mulciber.
Published May 8, 2015