FPE Welcomes Katie Donlin, Third Recipient of UL Fellowship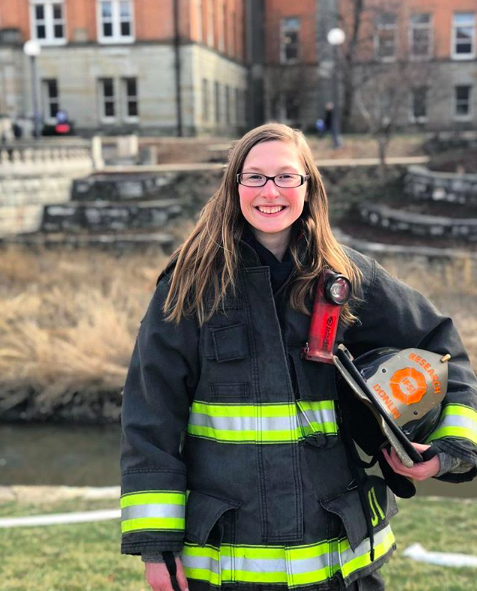 Kate Donlin, a graduate student in the University of Maryland (UMD) Department of Fire Protection Engineering (FPE), is the third recipient of the UL Fellowship with UL's Fire Safety Research Institute (FSRI), established in 2017. The funding will go towards Donlin's research topic, which will be geared towards the fire service community and is currently under development.
Originally from River Forest, IL., Donlin developed an interest in constructing and putting things together at a young age.
"My favorite subjects in grade school were math and science," she said, "So, I chose to study Mechanical Engineering at the University of Illinois, Urbana-Champaign, because I knew that I would receive a wide scope of knowledge from such a varied discipline."
In the beginning of her freshman year at UIUC, Donlin met Dr. Gavin Horn – Director of Research at the Illinois Fire Service Institute (IFSI) – and began working under his tutelage.

"During my time at IFSI, I was able to assist on several projects, a few of which allowed me to work with UL's FSRI," she said. "From there I learned about the fire protection engineering program at Maryland, and the UL Fellowship. I applied, and am so very honored to have been selected for the position!"
As an undergraduate student, Donlin's research centered on Personal Protective Equipment (PPE) material optimization, as well as victim physiological and biomechanical response to extreme temperatures and conditions.
"Although I would be happy to continue my research on biomechanics and materials science, my plan is to take some time during my first semester to ask questions and learn about as many meaningful fire safety issues as I can," Donlin said.
Working with her advising team – Drs. Jim Milke (UMD FPE Professor and Chair), Dan Madryzkowski (UL Sr. Research Engineer), and Gavin Horn – that sounds like a smart way to start.
Follow this link to learn more about the UL Fellowship.
Published September 26, 2019