FPE Professor of the Practice: An Update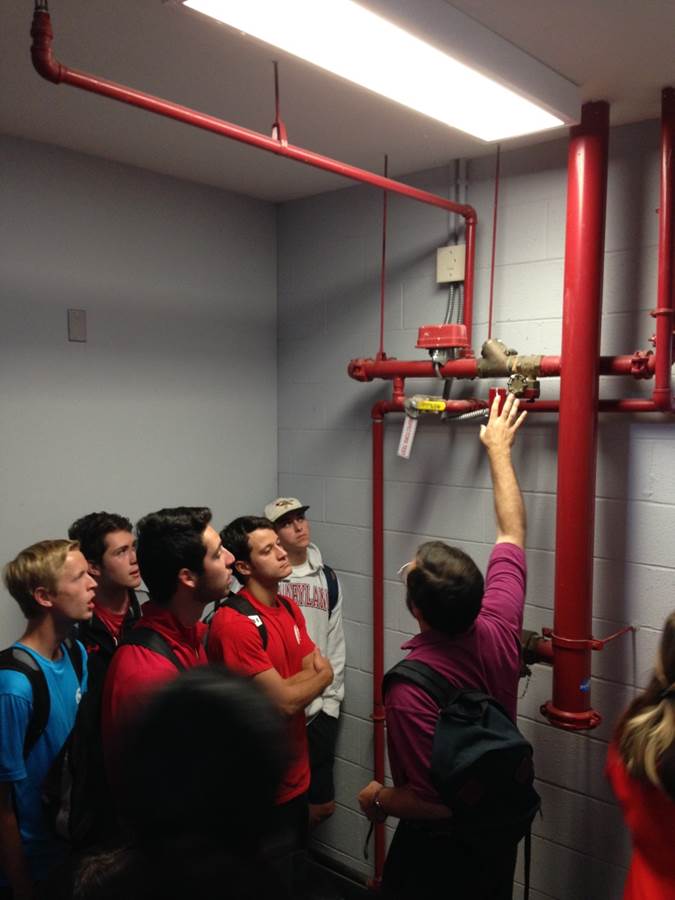 As part of Professor Ken Isman's Basic Life Safety course, he requires students to conduct a life safety analysis of a building. This is the kind of assignment students have come to expect from the department's professor of the practice – hands on and real world.
One potential glitch: Isman was concerned that some students might not be able to identify a sprinkler system as they naturally occur "in the wild" because they typically take the Basic Life Safety course prior to the sprinkler design class. Solution: a field trip to a campus building to see the sprinkler system connection to the standpipe that offered a teachable moment to students (pictured left). Through these kinds of activities, the professor of the practice positon has become the lifeline between the classroom and the practice of fire protection engineering.
Now that this positon is a part of the Department, it's hard to imagine being without it. The Department was thrilled to reach a fundraising milestone last summer of $2.5M, which funds the professor of the practice position at a basic level. FPE continues to fundraise toward the next milestone of $3M for this endowed fund– a goal that will protect against down years in the investment market and will robustly fund this position.
For more information, or to discuss making a contribution, please contact Allison Corbett at acc@umd.edu or 401-405-5841.
Published October 4, 2017