Vote to Support UMD FPE's Team Mulciber in the Next Generation Wood Stove Design Challenge!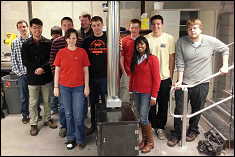 A team from The University of Maryland, Team Mulciber, has been named a finalist in The Alliance for Green Heat's Next Generation Wood Stove Design Challenge. The Challenge seeks to promote next generation stove designs, build a community of innovators and showcase stove innovation to the public. Competitors design and construct green, efficient and easy-to-use wood stoves in the hope of improving a much neglected technology.
Popular Mechanics has set up a People's Choice award for the Wood Stove Design Challenge. The People's Choice award gives everyone the opportunity to support the University of Maryland Team in the competition.
The UMD team is made up of students from a variety of disciplines, with most coming from the Department of Fire Protection Engineering. The team's FPE members include faculty adviser Prof. Stanislav Stoliarov and team captain Taylor Myers.
The team worked quickly to design, construct, and test a prototype of a stove featuring several innovations that allow for simple operation and clean burning. The Mulciber stove incorporates a forced air flow system, a fixed wood configuration, coaxial heat recovery, and a smart control system, which regulates the stove to optimize temperature and oxygen concentration. These features create a user friendly stove that will far exceed current EPA standards for emissions.
The team will next design, test, optimize, and construct a prototype. In Nov., 2013, Team Mulciber will compete against 13 other finalists from around the world on the National Mall in Washington, DC.
Vote for the team, or read about the other competitors
Published March 12, 2013