Two FPE Faculty Members Granted Tenure, Promotion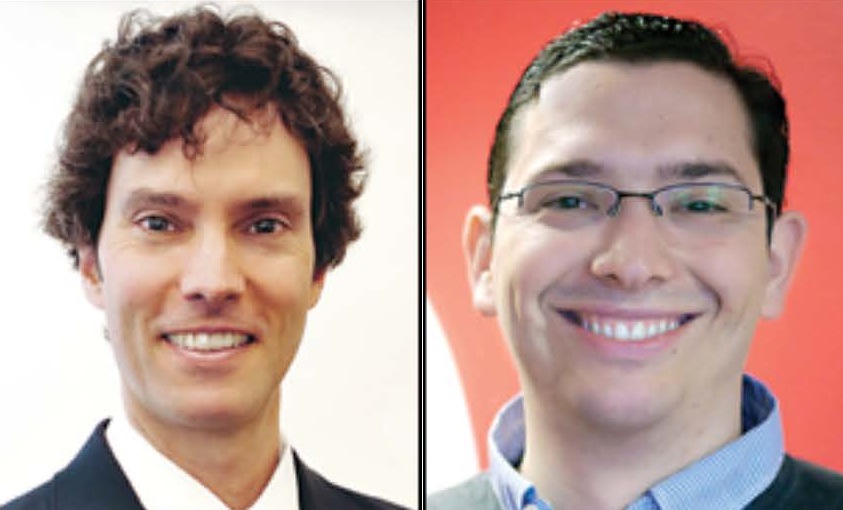 Peter Sunderland and Michael Gollner recently received word from UMD President Wallace Loh that each will be promoted, to Professor and Associate Professor, respectively.
Sunderland, who received his Ph.D. from the University of Michigan (Ann Arbor) in 1995, joined the University of Maryland in 2004. He is a Clark School Keystone Professor and UMD Energy Research Center affiliate with expertise in combustion, fire safety and hydrogen - specifically, hydrogen fuel-cell systems, small-scale power systems, next-generation nuclear reactors, and oil recovery, transport and processing. Sunderland has published numerous peer-reviewed journal articles, and received multiple awards, including the NSF Early Career Award (2010). His research has been funded by NASA, NIST and the National Fire Protection Association.
Michael Gollner received his Ph.D. from the University of California (San Diego) in 2012, and then joined UMD later that year. Gollner and his research group focus on solving problems related to the spread of wildland fires, material flammability, 'green' building fire safety, and the transportation of toxic products. Currently, their research is supported by the NSF, DHS, the U.S. Forest Service, and the National Fire Protection Association, to name a few. Gollner has received Early Career Awards from both the NSF (2016) and the International Association for Fire Safety Science (2017).
A hearty congratulations to both Professors, and many thanks to the Department for their support!
Published April 19, 2017