Fire Protection Engineering PSAs Promote Campus Fire Safety (VIDEO)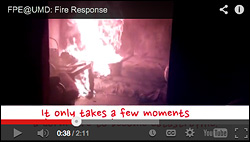 Through a new initiative sponsored by commercial and industrial property insurer FM Global, the University of Maryland's Department of Fire Protection Engineering (FPE) is reaching out to an important but often overlooked population–college students–about the importance of fire safety on campus.
In service to the campus community, students from FPE worked with FM Global to produce a series of public service announcement (PSA) videos to educate students about fire safety in residential living environments. These videos provide the fire safety message through student interviews and narratives. The format is designed to engage students in thinking about the problem and educate them about common misconceptions.
FPE undergraduates Binyamin Besser and Anthony Chung led the project, advised by Associate Professor Andre Marshall (FPE). Clark School Assistant Dean for Communications Ted Knight and Communications Coordinator Elise Carbonaro guided the students through storyboarding, scripting, and arranging the shoots.
The three PSAs, covering fire prevention, fire response, and fire technology are available for use on any campus free of charge. The University Risk Management and Insurance Association (URMIA), which helps colleges and universities keep their students, campuses and assets safe, is spreading awareness of the project to its membership through the August issue of its newsletter, URMIA Insights.
To distribute any of these PSAs, visit FPE's YouTube channel, choose a video, and click "share." For more information about University of Maryland's Department of Fire Protection Engineering or its fire protection public service campaign, please visit fpe.umd.edu or contact Andre Marshall at awmarsh@umd.edu.
The following fire prevention video focuses on what students can do and be aware of to prevent fires from starting:
The following fire response video explains how to react in the event of a fire emergency:
This fire technology video, geared toward the higher education risk management community, presents the benefits of sprinklers using engineering-oriented demonstrations at the University of Maryland and at the FM Global Research Campus:
Published August 20, 2014