Fire Protection Engineering Chair to Speak at NASA Safety Center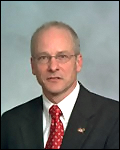 James Milke, P.E., Ph.D., professor and chair of the Fire Protection Engineering Department, will give a guest lecture at the NASA Safety Center on Tuesday, May 21.
Dr. Milke's lecture will focus on the performance of passive and active fire protection systems. Passive systems include fire doors and penetration seals, while active systems include fire detection and suppression systems. His presentation will be based on surveys from inspections and fire incident reports.
The lecture series is hosted by the NASA Safety Center's Operational Safety group and will take place at NASA Goddard Space Flight Center in Greenbelt, Md.
Dr. Milke is a fellow and former president of the Society of Fire Protection Engineers, and a member of several professional societies, including the National Fire Protection Association and the International Association for Fire Safety Science.
Dr. Milke became a faculty and staff member at the University of Maryland in 1977 and in 2011, he became chair of the Fire Protection Engineering Department where he also serves as a professor. He holds a Ph.D. in Aerospace Engineering, M.S. in Mechanical Engineering and a B.S. in Fire Protection Engineering – all from the University of Maryland. He also earned a B.S. in Physics from Ursinus College.
Published May 16, 2013