Enjoy a Festive, but Safe Holiday Season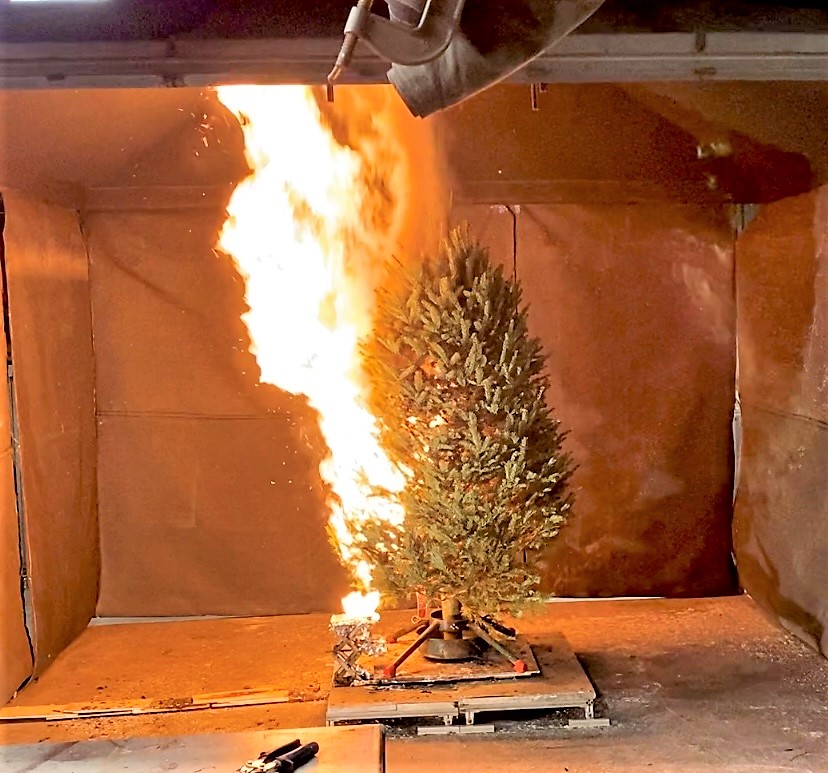 On December 16, Fire Protection Engineering (FPE) at the University of Maryland (UMD) held its annual Christmas Tree Fire Safety Demonstration. The event, a series of live-fire experiments on both natural and artificial trees, is designed to show the impact of moisture content on ignition, fire growth rate and peak burning behavior – proof that it is vital to maintain well-hydrated trees.
It's important to watch for signs of dehydration, too, said Isaac Leventon – an FPE alumni, adjunct lecturer, and NIST Fire Research Scientist – who hosted the event. Dry, droopy, light brown bristles can be hazardous if placed near an ignition source.
"The main ignition sources we see from [National Fire Protection Association] NFPA statistics are going to be electrical in nature — so poor wiring, faulty lights, or a local heat source, in addition to an open flame, or space heater," Leventon said, would be the most likely culprits.
Fires involving natural trees are twice as common as fires involving artificial trees, although artificial trees can still catch on fire and release toxic chemicals.
Between 2014 and 2018, fire departments nationally responded to around 160 home fires each year that began with a Christmas tree, according to the NFPA.
Follow this link to watch a Youtube video of this year's tree burn of a Balsam Fir (credit: Lee Gillenwater for UMD).
Media coverage:
Tips to keep your Christmas tree safe from catching fire this holiday season – WTOP
Fire quickly burns on dried-out Christmas trees, demo shows – WBAL-TV
Pines ablaze: Fire Protection Engineering holds annual Christmas tree burn demonstration – Diamondback
Published December 20, 2021