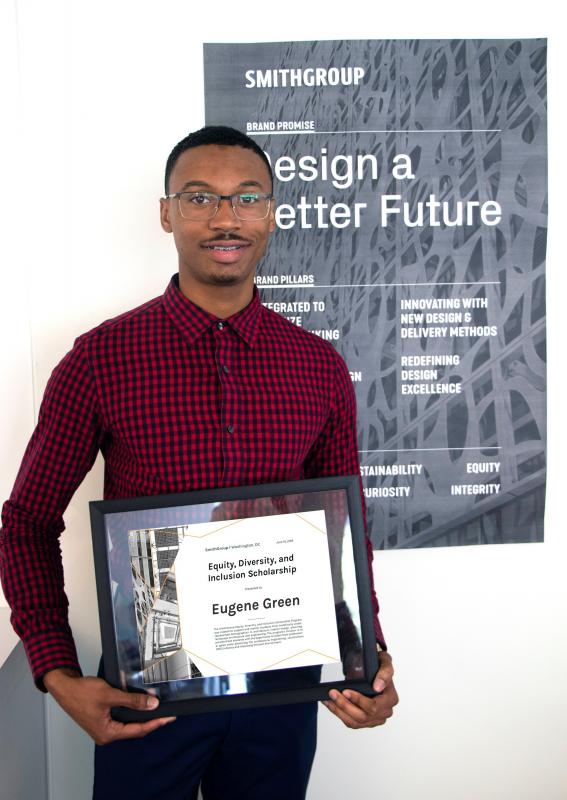 My internship at SmithGroup... was eye opening!
Name:  Eugene Green
Hometown: Fort Washington, MD
Graduation date/degree: B.S. (Dec. '19)
Please discuss your background a bit… why did you decide on UMD?  How did you learn about FPE, and what drew you to this specialty?
I was born and raised in Fort Washington, so I'm a PG County native. With that said, UMD was one of my lowest choices for schools initially since I thought I wanted to get away from home and explore a bit. That changed after going to my first Maryland Day in 2015 and seeing just how much cool stuff UMD had to offer.
Iwas always good at math and intrigued by science, so I knew engineering would be the major for me, but I wasn't entirely sure which discipline until after my sophomore year.
I started as a civil engineering major until I learned about FPE from Nicole Hollywood (FPE advisor) - we met while I was working as a camp counselor for the Discovering Engineering program the summer after freshman year. Nicole gave a presentation to the campers about fire protection, but I was probably more engaged in the information presented than they were. We crossed paths again the next summer and she introduced me to [FPE Chair] Dr. Milke, gave me her contact info and I declared fire protection as my major at the start of the following fall semester.

What was the best part of your experience at UMD? Any people in particular who made the experience memorable?
The best part of my experience at UMD was getting to meet so many different people from so many different backgrounds with similar interests. My graduating FPE class for example had people from all over the country and even from other countries, yet I was able to relate to many of them and has a great time getting to know everyone.

You just completed an internship with SmithGroup – what was that experience like?  How did your studies with FPE contribute to that position?
My internship at SmithGroup was my first internship in college, so it was eye opening for me. I was able to go out in the field and point out things I learned in my FPE classes, for example, where sprinklers should or should not be placed, missing components of fire protection systems, and even layout fire alarm systems for different buildings. I learned a lot about the process of interpreting and implementing codes and standards as well. I really enjoyed my time at SmithGroup and met lots of knowledgeable, down to earth professionals there. (Read related news article here.)

You're set to graduate this fall, congrats! Engineering is a complex major - have you any advice for students considering FPE as their major?
I definitely recommend getting to know as many of your fellow classmates as possible. My classmates and I helped each other on countless assignments and it really strengthened our knowledge of the course material. Office hours are also a huge help for understanding tough material and building relationships with your professors.

When not in class, how did you spend your time?
I'm usually either listening to music in my dorm, binging Netflix shows or playing Xbox with friends. Sometimes I'll go to concerts of my favorite artists in DC at places like Echostage and 9:30 Club, and other times I just hang out around the National Mall. I also enjoy hanging out with my best friend at his place and helping him with his photography.

What are your plans for the future?
I plan to take the Fundamentals of Engineering exam before the year ends and eventually pass the PE exam as well. I've been going back and forth about getting my Master's, but haven't settled on a decision. Regardless, I hope to continue to learn the ins and outs of FPE in the workplace as professional engineer.

So, what do you want to be when you grow up? 
I really just want to be someone my siblings can look up to as a role model, and someone my friends and parents can be proud of.
(We're sure he is.)
Top