Kyra Cromwell Reed Receives Philip Merrill Presidential Scholarship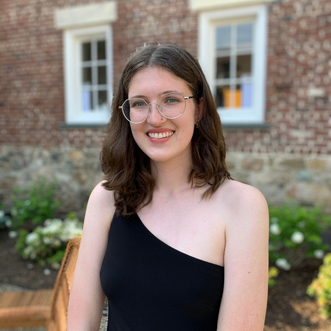 Kyra Cromwell Reed, an undergraduate student in the University of Maryland (UMD) Department of Fire Protection Engineering (FPE), is a Philip Merrill Presidential Scholar for the 2022/2023 academic year.
Reed has been academically strong in her fire protection engineering curriculum, joining both the Tau Beta Pi Engineering Honor Society and the Salamander Honor Society, as well as completing a minor in history. She's highly involved in the department, serving as president of the Society of Fire Protection Engineers UMD student chapter, an undergraduate research assistant, and as a Clark School Student Ambassador in addition to acting as a mentor for the Women in Engineering program.

Reed says her high school and UMD Faculty mentors aided in her pursuit of engineering and ability to take on new challenges. Rita Pascale, a teacher at Bethesda-Chevy Chase High School, taught Reed to enjoy math and encouraged her to walk the STEM path.

"Ms. Pascale's classes also provided me with a strong foundation in calculus that has helped me throughout my coursework at UMD," said Reed. "Professor [Kenneth] Isman's enthusiasm for fire protection engineering encourages me to be excited about the field and makes going to class enjoyable. He also encouraged me to take the 'Think Tank' course, which challenges students to create a new product to solve a problem in the field of fire protection engineering. The class ends in a competition between the students to pitch our products to industry leaders."

With Professor Isman's guidance, Reed explored a variety of angles in fire protection, as well as the entrepreneurial side – Reed ended up creating and pitching the winning idea.
"Professor Isman's encouragement of my idea helped bolster my confidence to select a fairly simple idea that had market viability, rather than pursuing a more complex technology without economic viability," she said. "I'm excited about the challenges facing fire protection engineers and I'm becoming confident in my own abilities more and more every day."
About the program:

The Merrill Presidential Scholars Program honors the University of Maryland's most successful seniors, and their designated University faculty and K-12 teachers for their mentorship. As a University community, we honor the Merrill Scholars and their mentors in a special ceremony and bring teachers and faculty together in a workshop that leads to stronger collaboration between the University and K-12 schools. The legacy of academic excellence, teaching and mentoring continues as scholarships are awarded in the K-12 teacher's name to a new first year student from that teacher's high school or school district. The Merrill Presidential Scholars Program builds a community of scholars, faculty members, and K-12 teachers who recognize and celebrate the importance of teaching and mentoring the next generation.
For more information, please visit https://www.ugst.umd.edu/merrill/scholarsmpsp2022.html
Published October 26, 2022