Introducing the Clark Scholars Program Network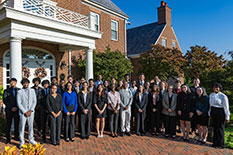 Since 2016, students in the A. James & Alice B. Clark Foundation's A. James Clark Scholars Program represent some of the most promising engineers, scholars, researchers, and community members in the country. With the ambition of continuing that tradition, the Clark Foundation and University of Maryland (UMD) today announced that the program—implemented at 11 of the nation's top engineering institutions—will have a new permanent home at UMD's A. James Clark School of Engineering, and known as the Clark Scholars Program Network.
"We are proud to introduce the Clark Scholars Program Network, the first-of-its-kind program to outlive the sunsetting foundation that created it. The sense of community between program staff and scholars across all 11 university partners is part of what makes this program so unique. The network will forge an even closer-knit community of collaboration among program leaders along with their universities, Clark Scholars Programs, students, and alums," said Joe Del Guercio, president and CEO of the A. James & Alice B. Clark Foundation.
Clark Scholars Program Network: Ensuring Student Success Continues
The newly announced Clark Scholars Program Network will maintain the Foundation's successful Clark Scholars Program and evolve to meet future students' emerging needs and success:
Enabling the continuation of the program community in perpetuity
Establishing the infrastructure to lead and guide the program across its 11 partner universities
Network team members will collect, analyze, document, and disseminate data from across the network to bring about more effective student recruiting and success.
"[As] a Clark Scholar, I am given the opportunity to pursue a career in the engineering field and work with mentors and like-minded students who are passionate about changing the world."
By facilitating opportunities to convene and discuss best practices and new ideas, the network will also foster more community between scholars, alums, leadership, staff, and partner institutions. The network will additionally establish a strong alum network as well as host an annual Clark Scholars Summit at partner institutions. Partner institutions include Duke University, The George Washington University, Georgia Tech, Johns Hopkins University, Penn State, Stevens Institute of Technology, University of Pennsylvania, University of Virginia, Vanderbilt University, and Virginia Tech.
"Jim Clark would often say, 'This is our home; we should build it.' And build it he did. He believed that if you gave a person a chance, they would create greatness. The Clark Scholars Program has given hundreds of students a chance, and the greatness they are creating will shape the world for decades to come. We are excited and honored to carry forward Mr. Clark's legacy of impact," said UMD President Darryll J. Pines.
UMD's Clark Scholars Program was established as part of Building Together, the Foundation's $219.5 million investment in the University of Maryland announced in October 2017. As a longtime partner to the Clark Foundation, the Clark School is poised to continue the Clark Scholars Program legacy, honoring its mission and values.
Addressing Society's Grand Challenges
The Clark Scholars Program is the Clark Foundation's signature academic program, combining engineering, business, leadership, and community service. The goal of the Clark Scholars Program is to graduate participants with little to no college debt and for these graduates to join the network of alums who are advancing technology through innovation.
"'Grateful' is an understatement. The Clark Scholars [Program] helped me and so many others finance college, and it was amazing meeting Clarks from other schools. Every day, I'm thankful for the opportunities this program has given us, including the chance to study abroad and go to incredible Broadway shows, sports games, and cooking classes, and for introducing me to lifelong friends."
The Clark Scholars Program is designed to recruit, retain, and graduate exceptionally talented engineering students with financial need who are poised to take on society's grand challenges. Clark Scholars confront these challenges with a multidisciplinary, socially aware, and entrepreneurial background. Program participants take engineering and business classes, participate in community service, and attend seminars and events with leaders in the field.
"By translating innovative science into technology solutions, engineering is poised to address critical societal challenges facing humanity. We are proud to educate the next generation of engineers; the Clark Scholars Program is indispensable in this endeavor," said Samuel Graham, Jr., dean of the A. James Clark School of Engineering.
Legacy of Impact, Helping Students Pursue Their Dreams
To date, the program has provided support to 591 Clark Scholars at 11 universities. Year after year, the program outperforms the national averages of students from demographics underrepresented in STEM, women, and Pell Grant-eligible students enrolled in undergraduate engineering degree programs:
50 percent of Clark Scholars are women, compared to 25 percent of engineering students nationally; and
46 percent of Clark Scholars are from demographics underrepresented in STEM, compared to 26 percent nationally.
"The investment into [Clark Scholars] at Georgia Tech by [the] Clark Foundation has enabled us as an educational institution to be attentive to the direction our students are moving. What do they value? What do they need for what lies ahead?"
In addition, 71 percent of Clark Scholars did not have to take on private student loan debt due to the Clark Program scholarship during the 2022–23 academic year.
"Mr. Clark was a visionary who built a successful business but never lost his connection to his local community. We are honored to carry forward Mr. Clark's legacy, opening the doors of opportunity for aspiring engineers and continuing his commitment to community service," said Dean Graham.
Published October 17, 2023