FPE Capstone 2015: National Museum of the American Indian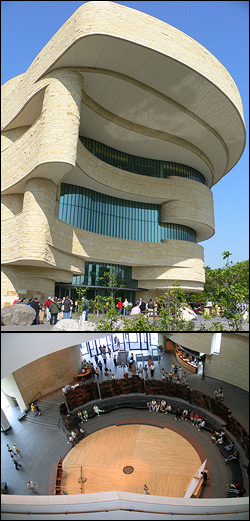 Located on the National Mall in Washington, D.C., the National Museum of the American Indian is one of the Smithsonian's most striking buildings. This spring, seniors in the Department of Fire Protection Engineering (FPE) at the University of Maryland were assigned to propose how they would protect the museum, its visitors, and its collection of cultural heritage objects, art and photographs from fire. The challenge was part of FPE's annual Capstone design course, ENFP 411: Risk-Informed Performance Based Design.
Capstone courses, taken in the senior year, are among the most important courses in the A. James Clark School of Engineering's undergraduate program. In them, teams of students utilize what they have learned throughout their studies to create their own engineering designs or product to solve a real-world problem in their field.
In FPE's Capstone, students evaluate a real building selected by the department's alumni, identify potential fire scenarios, and develop trial designs for systems that will protect the people and property within. After presenting their design briefs to a review panel of three professional fire protection engineers, each team must evaluate their trial designs against various fire scenarios using advanced calculations and computer modeling. Past subjects have included a library located on top of a subway station, an art museum in Williamsburg, Va., and a historic mansion that had been converted into a conference center.
The course focuses on teaching the students to use performance-based design (PBD) to propose effective design solutions. As part of PBD, students need to conduct engineering analyses, often including Fire Dynamics Simulator (FDS) models or empirical calculations, to justify their design solutions and demonstrate that they have met stipulated goals and objectives. Following a PBD approach provides designers with increased flexibility to create more effective and efficient fire safety systems.
According to Clinical Professor Ken Isman, who co-taught the Spring 2015 course with Professor and Chair Jim Milke, the unusual and swooping design of the National Museum of the American Indian made it a challenging subject.
"The architect wanted an open and inviting layout with no walls or separations between the exhibit space and the atrium," he explains. "In addition, the architect wanted to use the atrium as the method to move people from floor to floor as they visited the various exhibits. While all of this open space is beautiful to behold, it causes problems from a fire protection perspective. With no barriers, smoke and toxic gasses from a fire can quickly spread throughout the building, exposing people and property to injury and damage."
All museums, he adds, create challenges for fire protection engineers because the goals and objectives are elevated. In addition to protecting the people and the structure, the fire protection engineer is also tasked with protecting the valuable artifacts in museum's collection, which are frequently irreplaceable.
The student teams used calculations and FDS to prove that the systems they proposed for the building could keep smoke in the massive atrium at a great enough height to ensure people would not be exposed to it in the event of a fire. Isman arranged tours with the museum's fire protection engineer so the students could experience the space learn more about its special needs.
"What I liked about the class is that it gave me insight into the process of performance-based design," says Jon Scheer (B.S. '15), who took the course this spring. "I also really enjoyed the whole 'justify yourself' aspect of the class. We couldn't just say, 'We chose A, B and C.' We had to say, 'We chose A, B and C instead of G, H and I because of this, that and the other.' It forced us to really think critically and made us use all the knowledge we'd compiled over the last four years."
Published July 7, 2015