Extinction of Diffusion Flames in Fires
Post-Doc Vivien R. Lecoustre, PhD; and PhD Student: S. Vilfayeau
Advisor:
Baum, Howard R.
Trouvé, Arnaud
Sponsor:
National Science Foundation (Office of Cyberinfrastructure), FM Global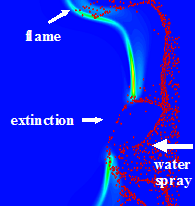 Total flame extinction is frequently observed in fire configurations, for instance as a consequence of fuel burn-out, oxygen depletion, or activation of a fire suppression system. Total flame extinction may be viewed as the result of the cumulative action of individual events known as local flame extinction. flame extinction is responsible for reduced levels of the heat release rate and increased levels of emission of products of incomplete combustion (e.g., carbon monoxide, unburnt hydrocarbons, soot); the reduced levels of heat release rate correspond in turn to a decreased risk of fire spread; the increased levels of carbon monoxide and unburnt hydrocarbons emission correspond to an increased risk of toxic poisoning and in some cases, to an increased risk of explosive combustion (e.g., backdraft phenomena).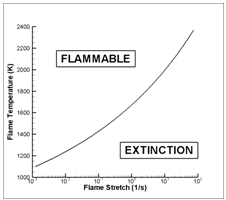 Diffusion flames may be extinguished by a number of different mechanisms: aerodynamic quenching due to excessively fast fuel-air mixing; thermal quenching due to excessive levels of heat losses (e.g., radiant cooling, convective cooling to cold wall surfaces, or water evaporative cooling in fire suppression applications); dilution quenching due to excessive changes in the composition of the fuel or oxidizer supply stream (e.g., air vitiation in under-ventilated fires). Laminar flame theory suggests that all these different phenomena may be explained by a single flame extinction criterion known as a Damköhler number criterion.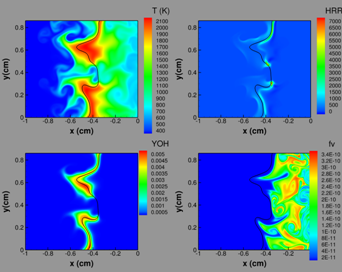 Current work is focused on the following two major components: (1) gain some fundamental understanding of diffusion flame extinction/re-ignition phenomena through direct numerical simulations (DNS) and large activation energy asymptotic (AEA) analysis; (2) formulate a new flame extinction model, implement that model into a large eddy simulation (LES) solver called FireFOAM (FireFOAM is a fire modeling software developed by FM Global and is based on the open-source general-purpose CFD software package called OpenFOAM), and perform validation studies.
To learn more
V.R. Lecoustre, P. Narayanan, H.R. Baum, A. Trouvé (2011) "Local extinction of diffusion flames in fires," Fire Safety Science – Proc. Tenth International Symposium, International Association for Fire Safety Science (IAFSS), 583-595.
P. Narayanan, H.R. Baum, A. Trouvé (2011) "Effect of soot addition on extinction limits of luminous laminar counterflow diffusion flames," Proc. Combust. Inst. 33:2539-2546.
Dr. Vivien R. Lecoustre is a Research Associate in the Department of Fire Protection Engineering. For further information about his research, he can be contacted at: vlecous1@umd.edu.
Sébastien Vilfayeau is a Doctorate Student in the Department of Mechanical Engineering. For further information about his research, he can be contacted at: svilfaye@umd.edu.