Trouvé Promoted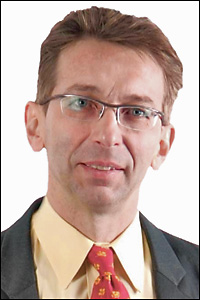 The Department of Fire Protection Engineering (FPE) and the A. James Clark School of Engineering extend their congratulations to Arnaud Trouvé, who has been promoted to the rank of Professor, effective August 23.
Trouvé's research interests include computational and physical modeling of a wide variety of fire phenomena, advanced simulations, high-performance computing, cyber infrastructure, and the application of data assimilation to fire and combustion. His current projects, funded by agencies and companies such as the National Science Foundation, NASA, and FM Global, address boundary layer combustion and heat transfer, data-driven wildfire modeling, extinction of and soot formation in diffusion flames, modeling of turbulent wall fires, and pyrolysis modeling.
Recently, Trouvé organized a cross-college team that received a University of Maryland Council on the Environment (ConE) Seed Grant for Interdisciplinary Environmental Research. The award will fund the development of a new system capable of quantifying the atmospheric pollutants and aerosols produced by wildfires. The project will incorporate the use of FIREFLY, a data assimilation algorithm he created with collaborators in France that is used to reduce uncertainties in estimating fire dynamics.
Trouvé serves as FPE's Director of Graduate Studies, and is also an affiliate member of the Departments of Aerospace and Mechanical Engineering. He has been a faculty advisor for the university's student chapter of Engineers Without Borders, a role that took him to the village of Dissin, Burkina Faso to install solar power systems. He is an editor and technical reviewer for numerous fire safety and technology journals, professional societies, and national labs. He is the Vice-Chairman of the International Association for Fire Safety Science (IAFSS). In 2010 he was the Host Committee Chair of the 10th IAFSS Symposium, and also served as the Program co-Chair of the 11th IAFSS Symposium in 2014.
Prior to joining the Clark School in 2001, Trouvé was a research scientist at The George Washington University, a senior researcher at the French Petroleum Institute, and a postdoctoral researcher at Stanford University's Center for Turbulence Research. He received his Ph.D. from Ecole Centrale of Paris, France, in 1989.
For More Information:
Visit Professor Trouvé's homepage
Published June 13, 2014