Stanislav Stoliarov Honored by International FORUM of Fire Research Directors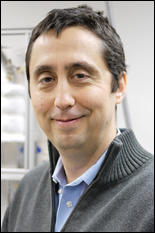 Dr. Stanislav Stoliarov, Associate Professor in the Department of Fire Protection Engineering at the University of Maryland, was recently named the recipient of the 2016 Mid-Career Researcher Award by the International FORUM of Fire Research Directors for his extensive contributions to the science of fire engineering. The award recognizes exceptional achievement of demonstrated leadership in the fields of fire safety science or fire protection engineering made by mid-career professionals. The Forum is recognizing Stoliarov's outstanding contributions to improving understanding of the complex physical and chemical phenomena involved in the heat transfer through and thermal decomposition of materials and products exposed in a fire, and to establishing quantitative connections between standard fire test results and the fundamental thermo-physical properties and structure of the material.

More specifically, the Forum is recognizing Stoliarov's contributions to the creation of the Microscale Combustion Calorimeter described in ASTM D7309; his development of one of the first generalized comprehensive pyrolysis models, ThermaKin; his efforts to develop a systematic methodology for pyrolysis model parametrization, which relies on a combination of new experimental methods and inverse modeling; and the design of a new experimental method, Microscale Flame Calorimetry, for quantitative assessment of relative activity of gas-phase flame retardants using mg-sized solid samples.

For 2016, the Mid-Career Researcher Award will consist of an honorarium of US$2,000 and a plaque that will be handed out at the next symposium of the International Association of Fire Safety Science, June 2017 in Lund, Sweden.

Congratulations Dr. Stoliarov!
Published July 20, 2016