Peter B. Sunderland named Keystone Professor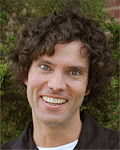 Peter B. Sunderland, Assistant Professor, was selected to join Keystone: the Clark School Academy of Distinguished Professors effective July 1, 2008. Becoming a Keystone Professor is a well deserved recognition for Peter's outstanding commitment to undergraduate education. Since his first semester at UM, Peter has eloquently shown the way of teaching excellence in the department and in the Clark School. It is the first time that a faculty member in the Department of Fire Protection Engineering has been recognized with this distinction.
The Keystone program is dedicated to the improvement of undergraduate education with special emphasis on the freshmen and sophomore years where we strive to reduce our attrition rate. Under the leadership of Professor William Fourney, only the best faculty who exhibit exemplary undergraduate teaching skills and commitment to excellence are selected for this program.
Peter will teach two lower-level engineering courses per year and will provide leadership in enhancing the content and delivery of these courses. He will receive a salary supplement as well as discretionary funds in support of education and research. We congratulate Peter on this achievement and we wish him the very best in this endeavor.
More information about the Keystone program is available here:
http://www.eng.umd.edu/giving/keystone.html
Published July 10, 2008