How Can Lighting a Flame Play a CD?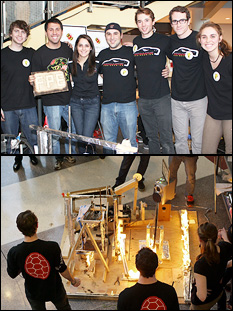 They may not have won the competition, but Team Fire Protection Engineering had the attention of three stories of spectators crowded onto the Kim Building's grand staircase as they competed in the third annual Alumni Cup.
The crowd watched as flames traveled around a Rube Goldberg-inspired, six-foot square device, activating a series of triggers, fuses, levers, and pendulums–all to play some music for the audience.
The Clark School's Alumni Cup competition gives teams from each of its departments one week to design and build an elaborate device capable of performing an otherwise simple task—this year, using at least 20 steps to load and play a CD within 60 seconds. Each team has three chances to run their device. They are judged on overall success, effective incorporation of concepts from their respective disciplines, and school spirit.
Team FPE activated their device by lighting a fuse, which in turn lit a candle and a pendulum. Released by the flame, the pendulum swung into a paper screen. As the screen burned away, it activated a trigger that rotated the candle. The candle lit a piece of tissue paper, which lit another fuse, which ignited a pool fire. The pool fire released a wheel that struck a match as it turned, igniting a third piece of paper and creating a lateral fire spread. The flames then traveled up, across, and down subsequent sections of the device. On its final descent, the fire triggered the release of a CD, dropping it into a portable stereo, and the release of a ball, which rolled down a ramp and hit the Play button.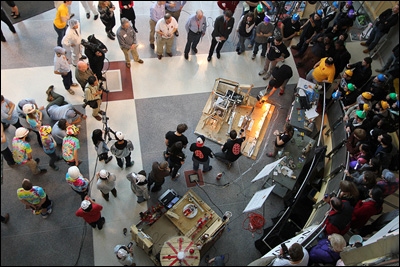 FPE junior and team member Cara Hamel says they knew they were in for a challenge. The wheel-match-strike component required near-perfect alignment, and fielding a machine that destroyed some of its own parts meant the team had more to reset than others after each attempt.
"Something we learned from building the device is that simpler is sometimes better," says Hamel. "We started off with some fairly extravagant ideas, and slowly worked back." The "simple" version of the device still gave spectators a thrill. "[People] were really happy we used more fire elements this year, even if they made the crowd a little bit nervous!"
Hamel says the Alumni Cup was a great way for her take pride in FPE while getting to know and learn from her teammates, who ranged from sophomores to doctoral students. "It really made me proud to be part of a major that is so unique," she adds. "I loved being able to show off our knowledge in a creative, yet safe, way."
In addition to Hamel, Team FPE's members included Nathan Kahla (sophomore), Isaac Leventon (Ph.D. student), Mark McKinnon (Ph.D. student), team captain Scott Silverstein (senior), Jerry Taricska (M.S. student), Maria Theodori (senior), and James Turcotte (senior).
For More Information:
Visit the Alumni Cup homepage
Published March 5, 2014