Grayson Bellamy and Matthew Harris Receive 2020 UL FSRI Fellowship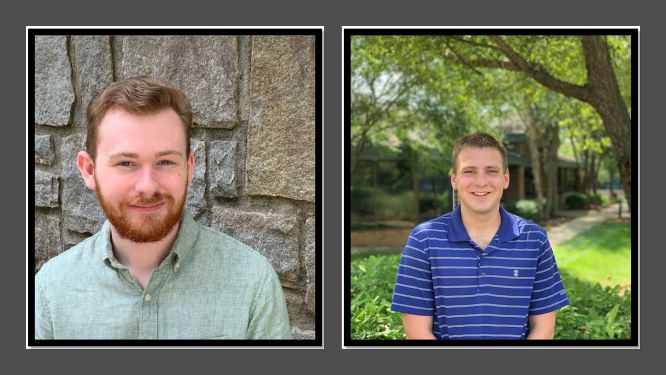 Grayson Bellamy and Matthew Harris, both graduate students in the University of Maryland (UMD) Department of Fire Protection Engineering (FPE), are the 2020 recipients of the UL Fellowship with UL's Fire Safety Research Institute (FSRI). Both students are eager to contribute to research at UL FSRI, while pursuing their master's degrees at the University of Maryland.
Bellamy is currently an FPE graduate student at UMD. He received his bachelor's degree in mechanical engineering from the University of Georgia in the spring of 2020, but his first hands-on experience with fire protection research began at UL's large-scale fire testing facility in Northbrook, IL. Through a previous internship, he was presented with the opportunity to travel to the facility to observe and assist in large-scale fire testing of commercial fire sprinkler system arrangements. Here, Grayson contributed to experimentation that would ultimately make retail occupancies safer and allowed him to gain a glimpse into the fire protection world.
"Participating alongside many accomplished and gifted engineers instilled a desire in me to one day have the opportunity to work among them," said Bellamy. "Their ability to analyze situations and surmise solutions impressed me, but their curiosity at unexpected results is what left a lasting impact on my ambition."
Grayson became involved with UL FSRI in 2019 for a summer internship. The internship allowed him to become involved in several projects including developing display boards for the National Fire Sprinkler Association (NFSA) and assisting with the Coordinated Fire Attack Study of garden-style apartments.
"Developing the field of fire protection research is important to me because of the real impact I witnessed at UL's FSRI," Bellamy added. "Talking and listening to members of the fire service demonstrated how research can influence firefighting by reducing casualties, lowering risks, and maintaining safety in the communities served."
Matthew Harris is also a graduate student in the FPE department at UMD. Matthew received his bachelor's degree in civil engineering from the University of Notre Dame in 2020. During his time at Notre Dame, Matthew was a member of the American Society of Civil Engineers and vice president of Chi Epsilon, the civil engineering honor society.
"Although I loved the field of civil engineering, it wasn't a perfect fit for me," said Harris. "When I learned about the University of Maryland's fire protection program, I knew FPE was the career I wanted to pursue. I would be able to make an impact on the lives of others through a discipline that is important to me."
Fire safety has always been a part of Matthew's life. His father is a 29 year veteran of the New York City Fire Department. In addition, many of Matthew's uncles and cousins are members of the FDNY.
"I have grown up surrounded by firefighters," Matthew said. "I'm excited about being a part of the FSRI because I will help conduct research that will protect the firefighters in my family. In the future, firefighters including my father can use this research to keep themselves safe while protecting others."
Since establishing UL's FSRI Fellowship in 2017, the team has supported one FPE graduate research assistant from the University of Maryland every year. For the first time ever, the team is welcoming two new fellows at the same time. This fall, UL's FSRI will host a total of four fellows.
To learn more, follow this link to the UL Fellowship page.
Published September 1, 2020