FPE Undergraduate Students Honored at 2023 Annual Awards Ceremony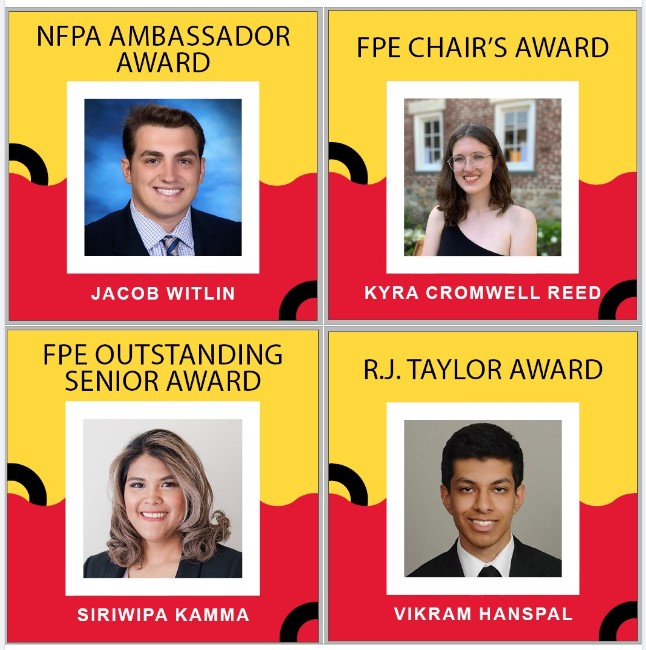 Each year, the A. James Clark School of Engineering at the University of Maryland celebrates exceptional undergraduate scholars through its Honors and Awards Ceremony, which recognizes students for their academics, leadership, and service.
On May 10, 2023, Maryland Engineering honored 70 undergraduates who exemplify the college's commitment to excellence, including four Fire Protection Engineering (FPE) students:
Kyra Cromwell Reed: Chair's Award



Kyra Cromwell Reed is a senior fire protection engineering student. She is president of the Society of Fire Protection Engineers UMD student chapter, organizing professional and social events for students in the department, and served previously as social chair of the organization. Kyra is secretary of the Salamander Fire Protection Honorary Society and a member of Tau Beta Pi. She is also a Clark School Ambassador and will begin her master's degree in FPE at Maryland in the fall.
Vikram Hanspal: Robert J. Taylor Award


Vikram Hanspal is a junior fire protection engineering student. He is a member of the Gemstone Honors Program, researching photovoltaic panel recycling processes. In Engineers Without Borders, Vikram is currently working on a latrine project in Uganda. He has participated in various research studies within the FPE department and has assisted in studies related to fire forensics and the impacts of fire in informal settlements. Vikram plans to continue his studies, earning a graduate degree through the Clark School's combined B.S./M.S. program.
Siriwipa Kamma: Outstanding Senior Award

Siriwipa Kamma is a senior fire protection engineering student, originally from Thailand. She served as a teaching fellow for the Introduction to Life Safety Analysis course. She has been accepted to graduate school at UMD to pursue a M.S. in fire protection engineering.
Jacob Witlin:

NFPA Ambassador Award
Jacob Witlin is a Senior Fire Protection Engineering Student who minored in Global Terrorism Studies. He plays rugby with the UMD club team, and has been an ambassador for both the Fire Protection Engineering program and the Clark School, recruiting new students into the engineering fields. Jacob was the team captain for the 2022 FPE Alumni Cup team, who's design won the competition. After graduation, Jacob has accepted a position with Jensen Hughes, a fire protection engineering consulting and design firm in Baltimore.
Congratulations to our outstanding students!
Published May 19, 2023