Fire Protection Mourns Undergraduate Student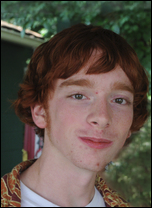 Fire Protection Engineering (FPE) undergraduate student John Sivert "Johnny" Brungot died unexpectedly in a fall at his home on June 29, 2011.

Brungot, 21, was a rising senior in fire protection engineering. Born in Annapolis, Maryland, he grew up in Davidsonville, Maryland, and is survived by his parents Christine and George Brungot '77, and siblings Karen Brungot '07 and Mark Brungot. His father is an alum of engineering, having received his bachelor's degree in electrical engineering.

John was a member of Alpha Sigma Phi fraternity and was an Eagle Scout in Boy Scout Troop 731.

Known for their camaraderie and support of one another, FPE students have pulled together in this difficult time and have expressed heartfelt remembrances. "I had the pleasure of meeting Johnny for the first time in high school. He always had a smile on his face and even greater was his ability always to put a smile on my face," said Andrew C. McCarra, fellow rising senior in FPE.

Three classmates Caroline Arrabal, Pamela Herald and Carolyn Sandler added, "Johnny was always one of the most welcoming and friendly students in class. No matter how early in the morning or how late at night, he could always lighten the mood. We will remember Johnny for his charisma and we will certainly miss his enthusiasm that made class enjoyable."

"John was a student in ENFP 310 this spring," said Associate Professor Peter B. Sunderland, "He sat near the front and asked many good questions. He was enthusiastic and energetic and it was a pleasure to speak with him."

"As a student in my classes, John was the proverbial good student. His enthusiasm for a career in fire protection engineering was highly evident," said FPE Chair James A. Milke.

More details are available here.
Published July 1, 2011