Alumnus Set to Lead Code Consultants, Inc.
University of Maryland Department of Fire Protection Engineering (FPE) alumnus Terry Schultz (B.S. '00) has been elected Code Consultants, Inc.'s (CCI) third President. He will succeed the company's current President, FPE alumnus Gregory Miller (B.S. '77), on January 1, 2015.
Founded in 1973, CCI is a fire protection and life safety consulting firm specializing in areas such as accessibility, sprinkler design, egress modeling, fire alarm design, and compliance with building and fire codes.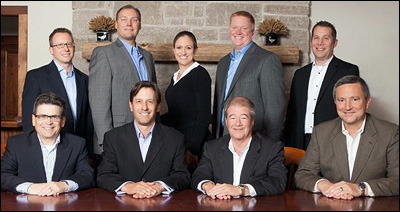 CCI's principal ownership group, including FPE alumni in front row, left to right: David Burkhart (B.S. '83), Terry Schultz (B.S. '00), Greg Miller (B.S. '77), and Vic Dubrowski (B.S. '83); and back row center, Amy McGarry (née Murdock, B.S. '98).
"It is essential that new and fresh leadership always be developed and brought to the forefront at the appropriate time in any great organization," said Miller in a recent e-mail announcement. "Terry Schultz was elected by the principal ownership group because of his outstanding technical, management, and business development qualities."
After completing his tenure, Miller will lead CCI's sales, marketing, and special initiatives.
"It is an honor to be chosen by my fellow partners to be the next President," Schultz is quoted in the same announcement. "I look forward to leading one of the premier fire protection engineering consulting firms in the United States into the future, capitalizing on the many opportunities before us to expand our services and grow the firm, while maintaining the high level of service for which we are known."
Published December 11, 2014