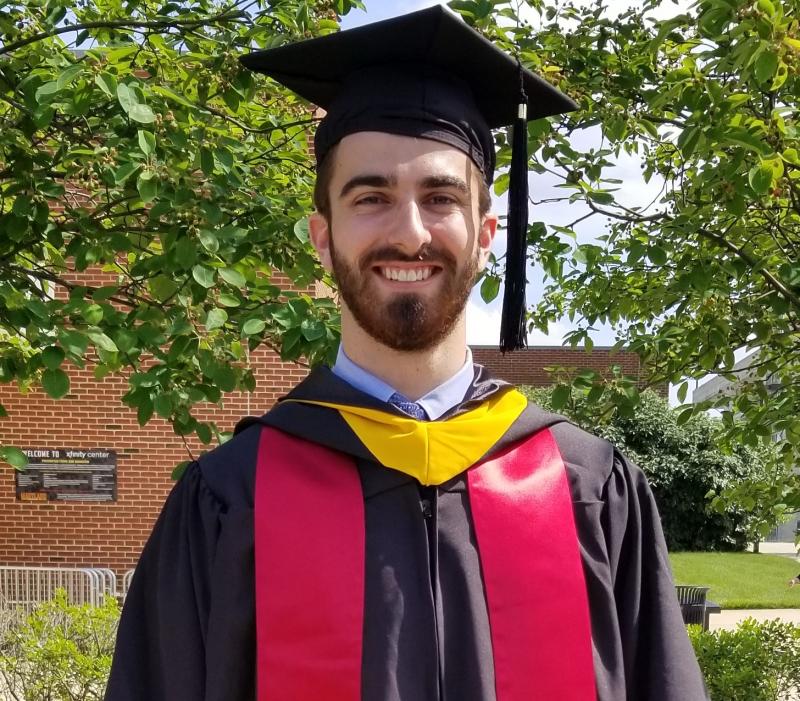 Keep your notes organized and thorough - it helps immensely when completing homework, projects and preparing for exams.
Name: Lucas Crofton
Hometown: Fallston, MD
Graduation date: Spring 2020
Why did you choose to study at the University of Maryland?
I chose to study at UMD because of its reputation in the field of engineering.
How did you hear about the Dept of Fire Protection Engineering, and what attracted you to the major?
When I came to admitted student day, I was given the option of taking a tour of the aerospace facilities or the fire protection facilities. I had never heard of fire protection before, so I opted to take the tour and afterwards found myself incredibly interested in the major!
What's been the best thing about your academic experience here so far?
I would say the close-knit community that is the FPE department here at UMD. Whether you have questions on homework or general studies there is someone who can help you and more importantly willing and interested to help you.
Please explain your current research. Does this research connect to any co-ops or internships you've participated in? How does this research, and/or off-campus experience, tie into your future plans?
My current research is looking at the dispersion of methane within residential homes and seeing whether a scalar approach is viable.
Which has been your favorite class and why?
My favorite class was probably the capstone class I took my spring semester of senior year. The reason being is that we did a analysis of an actual building and we could actually influence future design choices and modifications to the building.
Engineering can be an intensely difficult major. Do you have any suggestions for other students on how to manage it (inside or outside the classroom)?
I've found staying on top of your notes, whether they came from class or from a textbook. If you keep your notes organized and thorough, it helps immensely when it comes to completing homework, projects and preparing for exams.   
What do you do for fun, outside the classroom/lab?
I like to try and play ice hockey when I can, otherwise I thoroughly enjoy designing furniture, shelves, and miscellaneous things in CAD. When I get the chance, I am sometimes able to build these creations of mine, a very fulfilling feeling when complete.   
What are your post-graduation plans?
I hope to pursue a career in research and development within the fire protection field. This is one of my main drives for pursuing a Master of Science degree.
Top