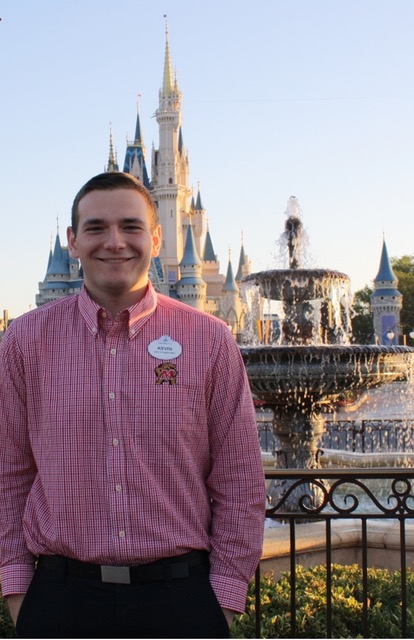 My parents are both UMD grads, so I always dreamed about coming to Maryland.
Name: Kevin Woodeshick
Hometown: Nescopeck, PA
Graduation date/degree: B.S. ('19)
We sat down with Kevin recently to learn more about his experience in the Department of Fire Protection Engineering (FPE), and how he parlayed that experience into an exciting career.
Can you discuss your background a bit? Why did you decide on the University of Maryland (UMD) and the engineering field?  How did you learn about FPE and what drew you to this specialty?
I'm from a small town in northeastern Pennsylvania. My parents are both UMD grads - so I was a Terp from day one - I always dreamed about coming to Maryland, to follow in their footsteps. Back home, my family are pizza makers, and I've been working in restaurant business for most of my life. It helped me to gain a work ethic and appreciate what it takes to be successful. I was lucky to have a high school that was very supportive of physics. My physics teacher helped to not only instill an interest in the field of engineering, but to have us look to a career rather then a degree. When I researched the engineering degrees offered at UMD, I discovered FPE. FPE was something that I had never heard of and it fascinated me. Not only would this be an opportunity to study fire, but also the career possibilities were endless. From my research I learned of some of the incredible companies that had an active relationship with the Clark School of Engineering - one of those companies in particular sealed the deal for me, that company being Walt Disney.
What was the best part of your experience at UMD? Any people in particular who made the experience memorable?

I had so many great experiences at UMD. One of the greatest accomplishments in my life would be when I made the UMD football team. My father found his way to UMD by means of an athletic scholarship to play football. Growing up with that in mind, I have always strived to be like him. Playing at the same high school, I tried my best to follow in his footsteps. I was a good player who played on a great team. We found success in the state playoffs, but fell short of the title that my father's cohort had won. When it came time to look at schools to continue playing football, the offers that I received to play were from smaller schools. I contemplated going to one of them but at the end of the day, my heart lied in Maryland - I chose to give up football and attend UMD.
During the spring of my freshman year, I realized how much I missed the game. I knew that the team hosted open tryouts and when I saw the date, I decided to give it a shot. I worked to get back into football shape, and when tryouts came, I was ready. That hour was one of the hardest I've ever faced, and I gave it a great shot. Just to be able to be on the field gave me an incredible sense of pride. It was a week later when I received a phone call from the football office asking me if I would like to join the team - I had never been more excited then I was in that moment! I broke down on the phone telling my dad the news because I knew just how important it was not only to me, but to him as well. In my time with the team, I made incredible friends, and gained experiences that some can only dream about. I was in the best shape of my life, I was able to use incredible facilities, had access to fantastic academic assistance, and provided with great sustenance . This experience, however, did not come without cost - I spent most all of the day at the field house between workouts, meetings and practice. My "free time" became dedicated to completing my engineering work. But no hardship could ever outweigh the amount of pride it gave me to run out of that tunnel on game day with that gorgeous helmet on my head and Maryland on my chest.
I understand you've accepted a position with Disney World in Orlando – what will you be doing for them? How did your studies with FPE contribute to this position?
When my football career ended to an unfortunate injury, I was lucky to have been chosen for a co-op position with my dream company, Walt Disney. The work that I have done with Disney World mainly focuses on three different aspects. The first of which would be assessments of current property, review of new projects, and the testing of fire systems. I was blessed to have been offered a full-time position, and I cannot wait to get started! My studies with FPE were an incredible help with this position. As my new position is fire protection specific, everything that I learned at UMD was applicable. This ranges from learning about code, sprinkler systems, life safety, alarm systems, and much more. It is incredible to be able to apply what I learned in the classroom directly into the real world.
Engineering is a complex major. Any advice for students considering FPE as their major?
Engineering is definitely a complex major that requires a lot of hard work to complete. The best piece of advice that I could offer to other students would be to get involved - that includes being engaged in the classroom. Talking with your professors is crucial. By talking with them on topics that you may not have gotten the gist of, they can give you a better perspective - they're there to help! This would also include doing as many internships as you can while in school. By being out in the real world, you learn the kind of things that you like and dislike to do. It is better to know now then after you accept a full-time position. Internships are also the gateway to a great job, and I would advise everyone to try one.
It doesn't seem like you had much of it, but how did you spend any free time?
When not in class, I spent most of my time at the football field. Outside of that I did an additional internship at BWI airport. I enjoyed going to sporting events on and off of campus. With my family I enjoyed spending time on the lake at my grandparents' home.
Any other plans for the future?
Right now, I'm really looking forward to moving down to Orlando to begin my career. At Disney World, I hope to build on my skill-set and continue to learn more ways to protect people from fire.
Final question, just for fun: What do you want to be when you grow up?
I hope to be someone who is respected in the field of fire protection, not only for my knowledge on the subject, but also for how I am able to help those around me. I would like to one day have a family and provide for them all the incredible opportunities that this life has offered me.
Top