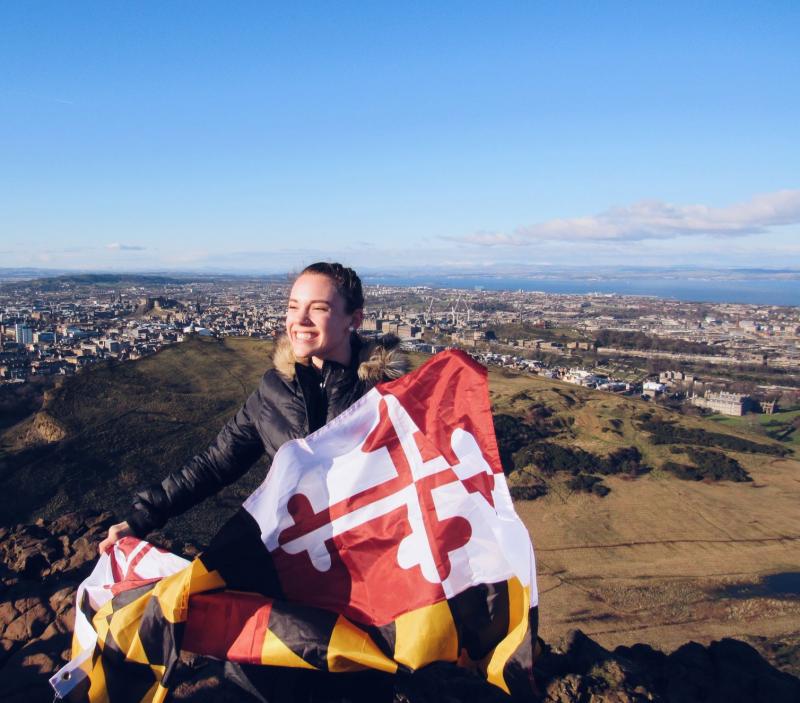 My favorite class was Human Behavior in Fire, which I took abroad at Lund University in Sweden.
Name: Karley Copperthite
Hometown: Baltimore, MD
Graduation date: Spring 2019
Why did you choose to study at the University of Maryland?
I first toured UMD because of the impressive engineering program and close proximity to my hometown. I noticed that there was so much pride and school spirit here, and the students genuinely seemed happy to be here. All of these reasons contributed to my decision to study here.
How did you hear about the Dept of Fire Protection Engineering, and what attracted you to the major?
I participated in the Exploring Engineering summer program in high school, and that was the first time I heard about the department. Fire protection seemed different and so exciting to me. I chose my major because of the outstanding job placement and the ability I would have to directly help people.
What's been the best thing about your academic experience here so far?
I love how small and close-knit the department is. All of the faculty members know the students by name, and their doors are always wide open. I feel so supported in everything I do here, and the faculty really wants to see all of the students succeed.
Which has been your favorite class and why?
My favorite class was Human Behavior in Fire, which I took abroad at Lund University in Sweden. The professor was so passionate about human behavior, and I loved learning about how the code is influenced by the way people react to fire. There has been some very interesting studies conducted relating to human behavior, and it is an area of fire protection that I feel really passionate about.
Engineering can be an intensely difficult major. Do you have any suggestions for other students on how to manage it (inside or outside the classroom)?
I think it is important to have a strong support system, whether that consists of friends, family, faculty members, or all of the above. You need to be honest with yourself if you are feeling stressed or overwhelmed and have an outlet for that stress. Joining organizations that interests you is a great way to get away from school and have fun.
What do you do for fun, outside the classroom/lab?
I am a member of the Terp Thon Planning Team on the Creative Development committee. Terp Thon raises money all year for Children's National Health System in DC, and the year ends with a 12-hour dance marathon. As a member, I make graphics, take pictures, and edit videos for the organization. I love Terp Thon because I can combine my passion for making videos with my love for volunteering. Aside from that, I also love to travel and spend lots of time outdoors.
What are your post-graduation plans?
I will be working as a Fire Protection Engineer at SmithGroup, an architectural and engineering firm, in DC. I am so excited to be right downtown working on challenging and rewarding projects.
Top