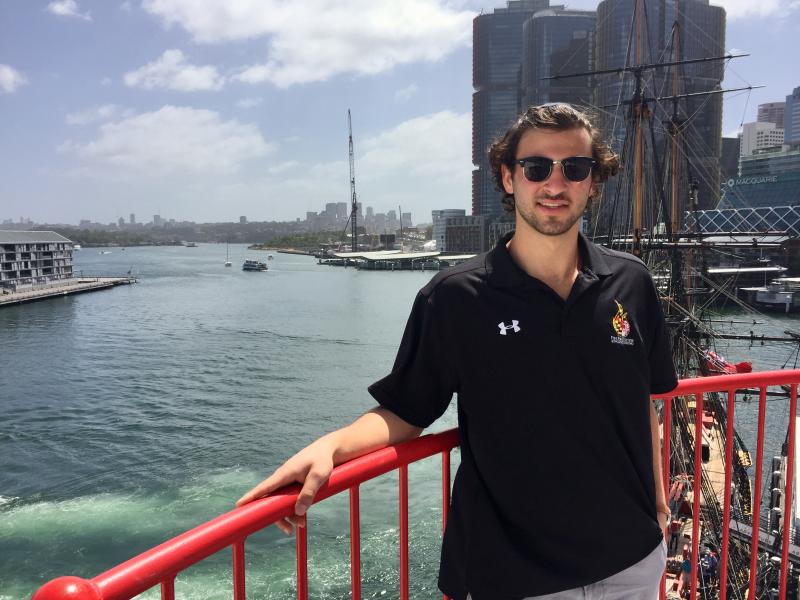 I learned just how fortunate I am to live in a state with such a reputable and esteemed university.
Name: Josh Schwartz
Hometown: Baltimore, MD
Graduation date: Spring 2019
Why did you choose to study at the University of Maryland?
Ever since my middle school days, I have slept underneath a Maryland flag that is draped over the window in my Pikesville bedroom. While my initial infatuation with UMD came at the hands of Gary Williams and Terps basketball, this school pride matured as I learned just how fortunate I am to live in a state with such a reputable and esteemed university. UMD jumped off the page for me as the place that I could pursue all my academic interests, participate in a host of extracurricular activities, and live in a premier location between Baltimore and DC. Truthfully, the decision was clear to me from an early stage, UMD offers unparalleled value and I was sure that was where I wanted to spend the next four years of my life.
How did you hear about the Dept of Fire Protection Engineering, and what attracted you to the major?
When I was growing up, my mom would bring my rambunctious siblings and me to the local fire station to meet the firefighters and see the equipment. Our frequent visits and yearly birthday parties there cultivated a love for the fire service that culminated in my both my older brother and I joining the Baltimore County Volunteer Fire Department. It was at station 32 that I not only became trained as a firefighter and EMT, but also met several alumni of the Department of Fire Protection Engineering at UMD. I was fortunate enough to spend some of my senior year of high school shadowing them on the job and getting a taste of what a career in fire protection is like. I was immediately captivated by the field and have not looked back since.
What's been the best thing about your academic experience here so far?
From my first semester at UMD, the engineering faculty have continued to impress me. Going back to the keystone instructors who taught our introductory engineering classes, I was overwhelmed by their clear and concise teaching styles, their availability for one-on-one assistance, and breadth of knowledge. When I transitioned into my upper level fire protection courses, I met a new group of faculty who exceeded the high expectations I had. Our fire protection professors and lecturers lead our field both in the laboratory and in industry. Despite all the time they must put toward their own research and work, they are among the most accessible and friendly faculty that I have encountered at the university.
Have you participated in any co-ops, or internships? If so, how did that experience tie into your future plans?
I was fortunate enough to spend the spring semester of 2018 in Sydney, Australia. While in Sydney, I worked alongside mentors at Holmes Fire on a research project regarding a performance-based review of the Australia Building Code. Having worked previously in sprinkler and fire alarm design at an architectural and engineering firm in Baltimore, this research bolstered my understanding of design work and code consulting. In my previous internships, I learned how to use the code to create designs and review building plans; with Holmes, I delved into the details of the code and used empirical analysis to determine its accuracy and efficiency.
Which has been your favorite class and why?
My favorite class at UMD was Communication for Project Managers, a course offered by the civil engineering department that I took for my minor studies in project management. Since all the students who take this course have already completed a general communication class as required by the university, this course is able to bypass much of the general communication theory and focus directly on the specifics of communication in project management and engineering. Dr. Bill Brantley, the course instructor, taught the class by bringing in his own personal experience to supplement the course reading and assignments. Each lesson highlighted a specific project management task and provided insight into how communication can either help or hinder your success. This course helped me hone my communication skills and taught me tangible tactics to become a better project manager and engineer.
Engineering can be an intensely difficult major. Do you have any suggestions for other students on how to manage it (inside or outside the classroom)?
Balance! Balance is essential to having a successful academic career in engineering school. There is no question that engineering school will challenge you academically, requiring you to spend hours in class and studying at home; however, every successful engineering student that I know spends significant amount of time pursuing other interests, hobbies, and simply taking some time off. Often the best thing to do when you feel overwhelmed is to take a break entirely; it may sound counterintuitive but exercise, quality time with friends and family, and simply having some fun are crucial to maintaining your focus throughout your studies.
What do you do for fun, outside the classroom/lab?
In my free time I try to stay incredibly active. I enjoy running, swimming, and playing sports with my friends. I love to walk out on the trail to Lake Artemisia and spend time fishing. I always try to make it back up to Pikesville a couple times per month to log some hours at the fire station where I volunteer as a firefighter/EMT. I'm always sure to grab some meals with my younger brother who is a sophomore here. And when I'm finally out of energy, you can find me on my couch watching sports and Shark Tank with my housemates.
What are your post-graduation plans?
After graduation I will be moving to overseas to enlist in the Israeli Defense Force. While I'll be taking a bit of a break in my fire protection endeavors, I know that this experience will lead to many connections that will open doors for my career in the future.
Top