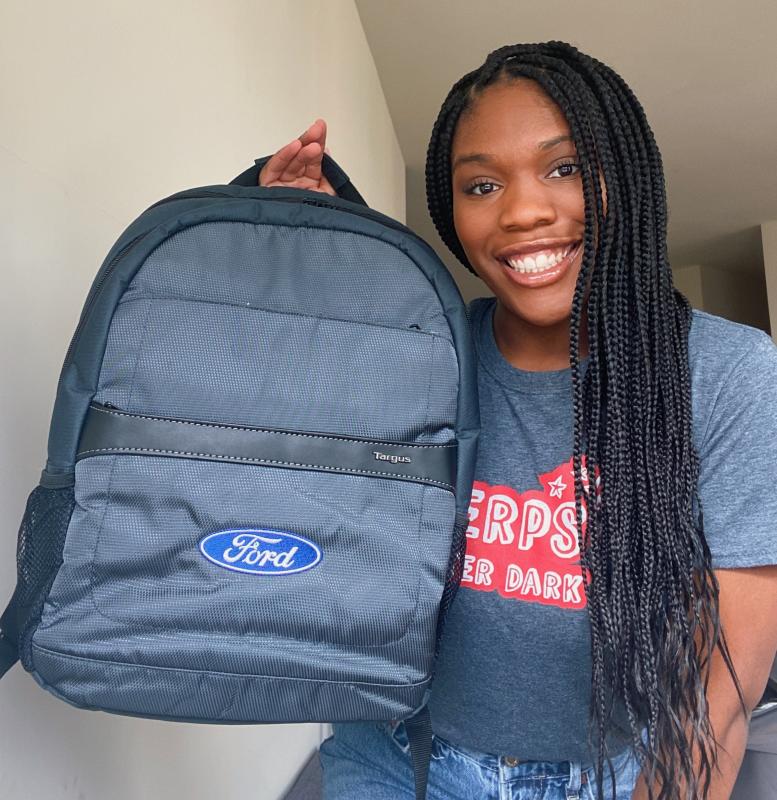 If you're willing to put yourself out there, and push hard, you will be successful.
Jordyn Cobbs
Hometown: New City, NY
Graduation date:  2022 (B.S.)

Can you tell us a bit about your background?
Well, I'm from New City, New York (30 min outside of New York City). My mother is a pharmacist at White Plains Hospital, my father is an endocrinologist at Harlem Hospital, and my older brother recently graduated from Dominican College in New York. I've always loved math and science, am passionate about protecting the environment, and I want to make a contribution to the greater good, specifically, protecting people. Engineering seemed like a logical choice for me.
Why did you choose to study at the University of Maryland? How did you learn about FPE and what  prompted you to declare it as your major?
I chose to study at UMD after attending a women-in-STEM program held at the university when I was a rising senior in high school. I attended Exploring Engineering at the University of Maryland (E2@UMD), which was a one-week summer program where I got to stay on campus  for a week to explore engineering at Maryland. In that short period of time, I learned a lot about engineering, toured each discipline/department, and learned more about the DMV [D.C./Maryland/Virginia] area (especially D.C.). After touring the fire protection labs and watching a fire tornado demonstration, I quickly fell in love with fire protection engineering. 
Have you conducted any research, either on or off campus? Any internships or co-ops? 
I've done both! In regards to research, I worked under Dr. Milke for the National Fire Protection Association (NFPA) with a group of undergraduate fire protection engineering students. Our main focus was analyzing occupant behavior in wildfire scenarios. This project was extremely interesting and allowed me to step outside of my comfort zone, as I had never conducted research before. Within a year, our team gathered tons of data, interviewed wildfire evacuees and professionals, and wrote a 30-page report describing occupant evacuation behavior in wildland fires.
In regards to internships, I have had two. One at Qiagen Sciences as a manufacturing engineering and technical writing intern, and the other at Ford Motor Company as a product development engineering intern. Both experiences allowed me to work with engineers of multiple disciplines and apply my unique knowledge of fire protection engineering on their specific projects. I have had the opportunity not only to share my fire safety knowledge, but to familiarize other engineers and companies with fire protection engineering at Maryland, giving them insight into how FPE students might contribute to their operations. 
So, you interned at Ford? That sounds exciting. Can you elaborate?
So, I was a Product Development Engineering Intern specifically on the Failure Mode Avoidance Team at Ford. This team specifically focuses on improving the robustness of the body interior and exterior automotive parts. My role specifically was to generate a risk assessment analysis macro that can be used on failure mode avoidance documents to evaluate the robustness of these parts and identify where the risk lies. Having the fire protection background gave me a different perspective as I have knowledge in areas where other engineers are unfamiliar. Especially being a part of a community/major where safety is prioritized, there was plenty of overlap with what I have learned within the last four years as a fire protection engineer and the work that I was doing at Ford. 
What do you think has been the best part of your UMD experience? Any challenges you had to overcome?
The best part of my experience has been getting to know the students, staff and faculty on campus. Additionally, getting involved outside of FPE really allowed me to get to know other students at the university. I am an active member of Theta Tau, the professional engineering fraternity here on campus and I was a community assistant on campus for two years. Both experiences allowed me to develop leadership skills, and really broadened my horizons. I want to thank everyone I've had the pleasure of interacting with, and I hope to keep all these connections with people post-commencement!
I faced plenty of challenges mostly while trying to navigate through engineering and learning how to be successful in the major. Being patient with myself, learning to manage my priorities, and  reaching out to family and friends when I needed encouragement got me through tough times.
When you're not in class, how do you spend your time?
Outside of class, I am an active member of Theta Tau, the professional engineering fraternity on campus. This fraternity is truly special to me - the other members have helped me develop my professional skills and allowed me to understand that success is not measured strictly by academic performance. It's amazing to have such a wide network of people to make this campus feel a little bit smaller. Besides Theta Tau, I love exploring Washington D.C., exploring the food scene, and relaxing with friends.
Do you have any post-commencement plans at this point?
Yes! Next year, I'm returning to Ford Motor Company as a Ford College Graduate Product Development Engineer on the Vehicle Software and Electronic Solutions (VS&ES) Team! I am extremely excited to continue working with this amazing company, and to explore life in Michigan!
Engineering is a complex major – do you have any advice for incoming students as to how they can be successful?
Over the last four years, I have learned that there will be plenty of obstacles and bumps in the road. Regardless of how much prior knowledge you have and how 
you perform on exams, if you're willing to put yourself out there, reach out to professors and students, and push hard, you will be successful.  Everyone comes to college with a different background, so comparing yourself to your peers is futile. Instead, stay determined, organized, and prioritize deliverables - once you become serious about what you want, then you will be successful. And try not to stress. The work will get done - it always does - and everything has a way of working itself out. So, take a break from studying and enjoy lunch in D.C. with friends on occasion - it will be good for you!
Just for fun, what do you want to be when you grow up?
Relaxed! I want to enjoy life, enjoy how far I've come, pick up a couple of hobbies like cooking and rock climbing, and take things day-by-day! At this point, that's all I can ask for.
 
Top