Frank Rudilosso ('06, '10)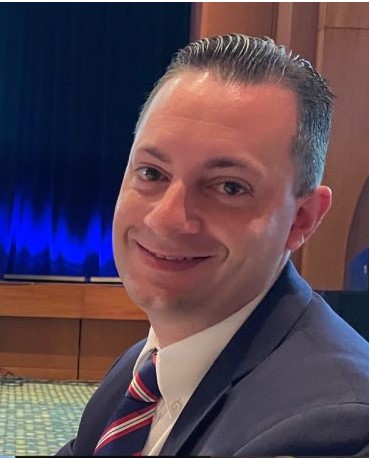 If you start to feel lost, don't stop – eventually, it all comes together.
Having spent the majority of his professional career working in the health care arena, you might be surprised to learn that Frank D. Rudilosso's roots go back to the UMD Department of Fire Protection Engineering (FPE).
Having bachelor's ('06) and master's ('10) degrees in fire protection engineering, in addition to a background in fire/life safety and facilities management, led Rudilosso to his current position – Director of Facilities Regulatory Readiness at New York-Presbyterian Hospital (NYPH). Currently, he is responsible for Facilities Regulatory Compliance, Medical Gas/Plumbing/Water Management Programs, Planning/Scheduling, Dispatching and Facilities Operational Excellence covering 7 campuses and over 11 million square feet of building space. Rudilosso led the effort to implement a new Facilities Operational Excellence Department geared towards standardizing, managing, and tracking NYPH's inspection, testing, and maintenance program to meet accrediting requirements. Additionally, Rudilosso was part of the team that developed and implemented a visual asset management tool for which NYPH received the American Society for Health Care Engineering (ASHE) Excellence in Health Care Facilities Management Award in 2016. 

We connected with Rudilosso recently to learn more about his tenure at UMD and how that segued into a career in the healthcare field.

So, you're originally from New York - what brought you to UMD and how did you learn about fire protection engineering?
"Well, my dad always worked in health care, in the medical gas field. Growing up, my family had a medical gas service and testing company. I started out sweeping floors, cleaning and bagging fittings, and eventually was an installer helper during summers while in high school.  Around the time of graduating high school, the family business expanded to include a company doing firestopping remediation and life safety consulting. While attending community college I worked for both the firestopping specialty contractor company and the life safety consulting firm, but I was unsure of what I wanted for a career. My dad used to mention how sprinkler systems were going to expand in health care and had an employee who mentioned Fire Protection Engineering at Maryland. The individual was a friend of Dr. Spivak, former Chair of the department, so he was familiar with the program. In 2002, my dad and I drove down to UMD to check out the program – I was instantly hooked."

How did you parlay that background into the health care industry? 

"After completing my bachelor's degree in 2006, I went to work for Rolf Jensen & Associates (RJA), now known as Jensen Hughes. I interned for them in summer of 2005 and was offered a full-time consulting role post-graduation. I worked full time for RJA for 5 years during which I earned my Master of Engineering degree in Fire Protection Engineering. During that five-year stint, one of my clients was NYPH. We were doing a lot of consulting work including onsite inspections for their Regulatory Compliance team. 

In 2011, another consultant who was working at RJA was conducting surveys at NYPH and mentioned that NYPH was creating a new Fire Safety Department – they were looking to hire a fire safety manager and fire safety engineer, which piqued my interest. Looking at the job descriptions, I decided I would apply for the fire safety engineer position. During the interview the hiring manager said "I want you for the manager role." Before I knew it, I had accepted the role as Fire Safety Manager! During my time in Fire Safety, I started to do life safety drawing reviews on projects for the drawings that were submitted to NYPH. My team was responsible for developing interim life safety measures (ILSM) documentation. I was able to utilize my fire protection background immediately to improve the NYPH process. After three years in Fire Safety, I was promoted to Life Safety Manager responsible for the entire Life Safety Program. At that point, so much of what I learned from the FPE curriculum was utilized and people around me valued my FPE perspective, especially regarding building codes and life safety concerns."

Later on, a Field Director for Facilities position opened up at NYPH. Although his background was less than a perfect fit, Rudilosso gave it a shot and was hired to manage the daily facilities operations. In 2020, Rudilosso was promoted to his current position as Director of Facilities Regulatory Readiness.
"At that point, I felt this was the perfect position for me, but I also had the support of the hiring manager and was convinced this was the right 'next step' in my career," said Ruilosso. "My hiring manager, currently the Vice President of Facilities Operations and Engineering, termed this position the 'glue' between compliance and facilities."

Incidentally, New York-Presbyterian Hospital is ranked No. 7 on the "Best Hospitals Honor Roll," according to U.S. News and World report.

What's more, Rudilosso acts as a primary technical committee member for NFPA 1082 and 2800; was a member of the ASHE COVID-19 recovery team; is currently serving on the ASHE Regulatory Affairs Committee, ASHE Operational Excellence Committee, and ASHE Rapid Response Taskforce, and is the current chair of the ASHE Member Tools Task Force where he leads a team of subject matter experts (SMEs) to develop various tools for healthcare facilities. In addition, he serves on the Association of Medical Facilities Professionals (AMFP) NYC Chapter Board as the Treasurer, is Co-Chair of the Golf Committee and serves on the Middle Country Children's Soccer Intramural Board as the Director of Intramurals/Coaches Coordinator. 

How did the ASHE COVID-19 Recovery Team happen? 

"In 2016, I was part of the NYPH team that was awarded the ASHE Excellence in Health Care Facility Management Award. Part of the award was an invite to the ASHE Leadership Institute, which is a four-year program. During that time, I met a lot of great individuals, very smart in their respective fields and some of which remain friends to this day. From there I was invited to join the ASHE Member Tools Task Force. Again joining a great group of peers from all over who came together to discuss challenges in health care and how we can develop tools to help ASHE members. The more you become involved in ASHE and show an interest, the more you can be seen as a valuable resource. I was then asked to join the ASHE COVID-19 Recovery Team. At the time, NYPH was at the height of COVID patients in the hospital. The COVID-19 recovery team was established to develop resources free and open to the public to help health care facilities develop plans to resume operations post-surge. I was able to incorporate lessons learned into the development of the resources as we (NYPH) were just experiencing the brunt of the pandemic."

While attending ASHE events, Rudilosso was proactive about making connections and fostering relationships with an array of other members. He'd never planned on being an author, but was encouraged by others in the field to put his knowledge and experience on paper.

Since then, Rudilosso has written or co-authored multiple articles pertaining to regulatory readiness, facilities operational excellence, and fire and life safety as it relates to health care facilities. His focus has been on complying with regulations and ensuring facilities operational excellence. Most recently, Rudilosso contributed to a book entitled, Developing Code-Compliant Integrated Fire Protection and Life Safety Inspection, Testing and Maintenance Programs, which was published earlier this year. 

Rudilosso was also named a 2021 "40 Under 40" by Consulting-Specifying Engineer magazine and was designated Senior status (SASHE), which is granted to an ASHE active member demonstrating a commitment to the health care facilities management profession and recognizes their contribution to the industry through leadership, education and publishing. 

Do you have any advice for how current and future FPE students can be as successful in their careers as you have been?

"Always take time to build friendships and relationships, with your classmates, professors and co-workers. Get involved with the fire protection department and network as much as possible. If you're struggling with the course-load, don't let that hold you back – inertia demands we keep moving forward – there are plenty of faculty members and student groups to help you push through. If you start to feel lost, don't stop – eventually, it all comes together. And don't be afraid to try something new – it pays to think outside of the proverbial box. Also, balance your work-life and family-life, and do your best to separate the two." 
 
Top